Are Folding Electric Mountain Bikes Any Good?
Despite the convenience of folding electric mountain bikes, they still lag when rating the most popular e-bikes. You can confirm that seeing someone with a folding electric mountain bike is infrequent. For some reason, people have declined to invest in these e-bikes. It is hard to explain why they have not picked up in the current market.
However, folding electric mountain bikes are slowly returning with unique designs and styles. The little innovation the designers and manufacturers put in them may be the difference. And hopefully, the market of foldable electric mountain bikes will continue to thrive.
Are Folding Electric Mountain Bikes Any Good?
Yes, folding Electric Mountain Bikes are really good and have improved a lot lately. But is it important you understand the pros and cons and see if it is a good fit for you, They are convenient and much easier to move and store, but they are usually a little bit more expensive, less sturdy, and there are a limited amount of designs.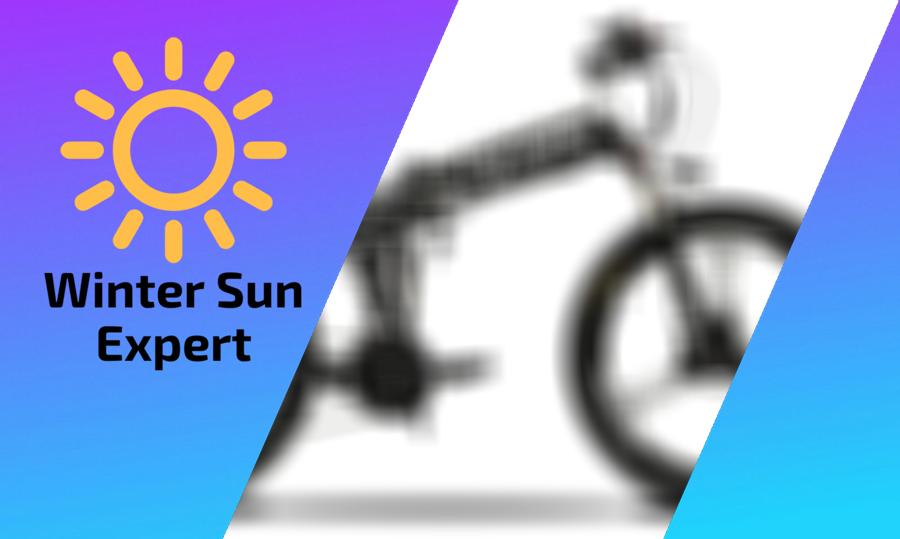 To understand the awesomeness of these bikes, it would be more helpful if you followed the different elements that make them a perfect cycling choice.  
Folding electric mountain bikes can fit in your trunk
The traditional designs of folding bicycles may be outdated in the current era. However, the convenience of this innovation cannot be out fashioned that easily. A folding electric mountain bike gives you the comfort you may be craving.
It folds in half to free up space if you fit it anywhere. People who have tried to carry their bikes while in transit can confirm the headache of fitting the bike in a limited space. Bikes are undeniably impressive until you decide to transport them. They can be a colossal pain.
If you have been through such a situation, you will probably appreciate the ability of a bike to fold when trying to fit in a car or any other storage place.
Folding Electric Mountain Bicycles
Folding bikes are awesomely convenient. When you combine two of the best amazing features in the world of bicycles, you get a folding electric mountain bike. It is supposed to be the ultimate bike that exudes speed and handiness.
For hard-core e-bike lovers, here is why you need to get your hands on one of the folding electric mountain bikes in the market.
Convenience
This is an area that we have looked at a bit. But whatever you have in mind is just a scratch on the surface. Transporting your folding e-bike on trains, cars, or any other public means of transport may be convenient. But have you ever tried carrying your bike upstairs?
If yes, then you know the sort of hurdle it is. With a folding e-bike, you will quickly eliminate this challenge. Once you fold the bike in half, you solve half the problem of carrying it up the squeezed staircases.
But that's not all, here are some challenges that you may as well bid bye if you buy a folding eMTB:
● Moving the bike without riding:
Sometimes, you may want to move your bike from one place to another without riding. The situation may be caused by the need to travel a long distance by car, or perhaps the bike is damaged, and you cannot ride it. Trying to stuff the bike in a vehicle may be a tough call.
A folding electric bike only takes half the horizontal space to make packing more expedient and fast. If you are into biking and traveling simultaneously, this is the perfect fit for your passion.
● Storage:
Not everyone is always on their bikes, especially during winter when snow and ice are all over the ground. That means you will need a place to store your bike during that period. A foldable electric bike is handy because it will not get in the way of other eMTBs. You can fold it, tuck it in a corner, and forget storage space.
But any other foldable bike can fit this profile. So why should you choose a foldable electric mountain bike over the other e-bikes? Here is the answer. If you love speed and the fun of electric-assisted bikes, adding an extra feature like folding should be more fun.
Once you unfold the bike and engage the motor, the riding experience is limitless.
Common misconceptions about folding electric mountain bikes
Folding electric mountain bikes are not as popular as regular ones because many people are misinformed. Here are some of the misconceptions that have continued to plague folding and electric bikes.
● Folding electric bikes are easily broken
Most people claim that folding eMTBs are not durable enough. But that is not true. The argument is always that the folding parts are prone to damage, adding more costs to maintaining the bikes. The truth is every machine manufactured with joints and hinges experience a bit of drawback in those areas.
But the manufacturers of these bikes also know that those regions are weak links. Therefore, foldable e-bikes are reinforced with different technological designs to prevent such problems.
One of the measures to eliminate this problem is designing folding bikes with reduced weight on the joints. The durability is significantly enhanced when the pressure applied in those areas is reduced. In this sense, some folding bikes are more robust than ordinary eMTBs.
Another thing to consider is that you will likely get what you pay for. The same applies to anything you purchase. The quality and price are direct variables. Cheap folding electric mountain bikes may not be as durable as more costly ones.
As much as you would like to go for the most affordable options in the market, avoiding some deals that look too good to be true is always advisable.
● Foldable eMTBs are expensive
The bike's motor part is likely to increase its price. But that is normal and considerate. All other electric mountain bikes vary in price, and that is something you cannot avoid. A folding electric mountain bike is often a bit more expensive, but you can find much more expensive non-foldable eMTBs.
But again, you may have to compare different models to determine the right one that fits your budget.
The best price range for a folding electric mountain bike should be between $500 and $1500. Anything above that range would be a result of added aesthetics. Any price that is lower than that range should raise some eyebrows. Paying more for a bike and using it for many years is better.
● The motor can be affected by folding the bike
This possibility is something that the designers of the bike take into account. The battery pack and delicate elements are often placed strategically away from the joints and hinges. It is, therefore, safe to fold the bike without worrying about the state of the other parts.
● Folding electric mountain bikes are slower
Another misconception is that folding bikes are given less power than other eMTBs. All the technical features of an eMTB are included in the folding bike. Regarding speed, the type of motor and its power rating is the determining factor, not the bike's design.
The ingenuity of the manufacturers allows for better, if not similar, features on a folding eMTB as in other electric bikes. With an electric motor installed on the bike, you can easily beat any lag that may come your way.
With that said, It is essential to understand that any misrepresentation of facts about foldable electric mountain bikes may impact their acceptability. On the other hand, you do not need to rely on third-party information if you are unsure what to do.
Try doing your homework to see if what you want is suitable for you or not. In the end, it is your need that should be met.
The bottom line
If you have a regular electric mountain bike, then you know how hard it is to board anywhere with your bike. The bulkiness of the generic eMTB will force you to purchase a bike rack if you need to transport it to the back of your truck. Worst enough, you must lock them up in some parking zones if you cannot handle the pressure of moving around with one by your side.
When it comes to a folding electric mountain bike, you get a more comfortable time due to the handiness of the bike. It is as convenient as folding it up at the end of a ride and stores somewhere in a corner, waiting for the next trip.
When it comes to getting the most convenient and suitable folding bike for you, remember to look at the bike's balance instead of going for the specs alone. The electric motor's weight can impact the bike's balance if it is mounted in the wrong place. And you also do not want an engine that is too close to the folding hinges and joints.
There are several explanations for why you might opt for a folding electric mountain bike apart from the apparent portability and ability to save on space. If you are still undecided about the prospect, you should find someone who has one and ask if you can try it out to feel the bike's functionality for yourself.
Alternatively, you can visit your nearest dealer and hear from the experts directly.
Folding Electric Mountain Bikes: Are They Worth It?
• Introduction to Folding Electric Mountain Bikes
Folding electric mountain bikes (eMTBs) are a relative innovation that combines the convenience of a folding design with the power and capabilities of electric assistance, providing an exciting alternative for outdoor enthusiasts.
These bikes make for a versatile and space-saving option, allowing riders to transport and access various terrains easily.
• Key Features of Folding Electric Mountain Bikes
– Folding Mechanism
The main selling point of folding eMTBs is their ability to fold into a more compact size for transportation and storage. Typically employing a hinge-based design, folding bikes can be compacted in seconds, making it convenient to carry them in a car trunk or take them on public transportation.
A well-built folding mechanism should balance ease of use and structural integrity when riding.
– Electric Assistance
Equipped with a battery-powered motor, folding eMTBs provide varying degrees of electric assistance to the rider. This can be particularly helpful when conquering steep inclines, traversing rough terrain, or simply taking a break from pedaling.
Most electric mountain bikes offer multiple levels of assistance, allowing riders to customize their experience and conserve battery life as needed.
– Suspension and Frame Design
Folding eMTBs generally features a robust frame design and suspension system, essential for handling rugged mountain trails and absorbing impacts. A quality suspension fork and rear shock, combined with a durable frame, can significantly affect ride comfort and handling.
– Wheel Size and Tire Selection
Electric mountain bikes usually come with either 26-inch or 27.5-inch wheels, depending on the intended use and rider preference. Larger wheels are better suited for rolling over obstacles, while smaller wheels provide quicker acceleration and increased maneuverability.
Additionally, tire selection is crucial in traction and ride comfort, with wider tires offering increased grip and stability on various surfaces.
• Advantages of Folding Electric Mountain Bikes
– Ease of Transportation and Storage
Their compact design allows folding eMTBs to be easily transported and stored without requiring a dedicated bike rack or significant storage space. This makes them an ideal option for outdoor enthusiasts living in cities or small apartments and those who wish to avoid the hassle of transporting full-sized bikes to trailheads.
– Versatility and Accessibility
The combination of electric assistance and a folding design enables these bikes to cover various terrains and use cases, from urban commuting to off-road adventures.
Furthermore, electric assistance can make mountain biking more accessible to riders of varying skill levels and physical abilities, allowing more people to enjoy the thrill of the sport.
– Environmentally Friendly
Riding an electric mountain bike can be an eco-friendly alternative to driving a car, reducing emissions and the carbon footprint of your outdoor activities. Furthermore, the electric assistance encourages riders to choose biking as a viable transportation option, thus promoting a greener lifestyle.
• Potential Drawbacks of Folding Electric Mountain Bikes
– Weight and Portability
While the folding mechanism offers increased portability, folding eMTBs tend to be heavier than their traditional counterparts due to the addition of a battery and motor. This may make them more difficult to carry or maneuver when folded, particularly for individuals with limited strength or mobility.
– Durability and Maintenance
As with complex equipment, folding eMTBs require regular maintenance to ensure optimal performance and longevity. Folding mechanisms, hinges, and other components may require periodic adjustment or replacement to maintain structural integrity and safety.
Electric components like the battery and motor may need to be serviced or replaced over time.
– Price
Folding electric mountain bikes generally come at a higher price point than traditional mountain bikes or non-electric folding bikes due to the integration of electric components and the folding mechanism.
However, depending on the intended use and the alternatives (such as the cost of a car and fuel), it can be considered a worthwhile investment for some individuals.
• Conclusion and Recommendations
Folding electric mountain bikes have much to offer, especially for riders seeking a versatile and space-saving solution for exploring mountain trails and urban environments. However, they may not be suitable for everyone, particularly those with weight and portability concerns or those on a tight budget.
To make an informed decision, I recommend researching and test-riding various models and brands of folding eMTBs, as well as considering the specific needs and preferences of the rider.
It might also be helpful to consult reviews and expert advice from reputable sources like ElectricBikeReview.com and MountainBikeReview.com or seek guidance from local bike shops or cycling clubs.
With careful consideration and due diligence, folding electric mountain bikes can bring a new level of excitement and enjoyment to your outdoor adventures.
Assessing the Value of Foldable Mountain Bikes
Foldable mountain bikes have gained popularity in recent years as people seek more convenient transportation and exercise. But are they a worthwhile investment, especially for those who love off-road cycling and demand ruggedness and mobility from their bikes?
To discuss the worthiness of foldable mountain bikes, it is important to delve into the different aspects, like their portability, performance, durability, and the range of options available in the market.
• Portability: A Major Advantage
Foldable mountain bikes are known for their ability to be folded into a compact size, making them easy to transport and store. This portability is a significant advantage for those living in urban areas with limited storage space or those who want to take their bike on public transportation.
If you frequently travel with your bike, a foldable mountain bike can be convenient. For instance, if you like to explore different mountain biking trails and need to drive to the trailhead, a foldable bike allows you to store it in your car's trunk conveniently.
Additionally, considering their compact size, some airlines might have more favorable policies for foldable bikes.
On the topic of portability, BikeLeague.org has a useful guide on how to travel with folding bikes.
• Performance: Versatility Meets Compromise
Foldable mountain bikes come in various designs to cater to off-road terrains and user preferences. Many foldable mountain bikes are equipped with quality components, such as hydraulic disc brakes and full suspension systems, which provide excellent control and maneuverability on technical trails.
However, some compromises are made regarding geometry, weight, and rigidity to achieve the folding capability. Typically, folding mountain bikes tend to be heavier than their non-folding counterparts, owing to the additional hinges and joints necessary for folding.
Also, the smaller wheels usually found on foldable mountain bikes may decrease stability, especially when riding on rough terrain.
Nevertheless, foldable mountain bikes can offer a good balance between performance and convenience for leisure riders who prioritize portability and are not hardcore off-road enthusiasts.
• Durability: Sturdy Enough?
Regarding the durability of foldable mountain bikes, concerns often arise about the longevity of the folding mechanisms and whether they can withstand repeated use and rough trails.
The truth is that the durability of a foldable mountain bike largely depends on its quality and construction materials. As with any bike, you get what you pay for. Higher-quality foldable mountain bikes, with robust aluminum or steel frames and sturdy folding mechanisms are designed to endure off-road conditions and long-term use.
To ensure longevity and reliable performance, it is crucial to maintain and care for your foldable mountain bike properly. Regular inspections and timely repairs can go a long way in extending the life of your bike.
• Range of Options: Choose Wisely
The market offers a wide array of foldable mountain bikes, catering to different preferences and budgets. However, finding the perfect foldable mountain bike may require careful research.
Before purchasing a foldable mountain bike, consider factors such as the type of trails you will primarily ride on, your preferences in terms of weight and folding capabilities, and your budget.
Based on my experience, I recommend investing in a high-quality foldable mountain bike rather than a cheap model to ensure its durability, performance, and overall satisfaction. Additionally, it is always a good idea to test-ride a few models to find the most comfortable and suits your riding style.
• Conclusion: Are Foldable Mountain Bikes Worth It?
In conclusion, foldable mountain bikes offer great convenience and portability, making them a practical option for many people, especially those living in urban areas or traveling with their bikes.
However, it is essential to realize that foldable mountain bikes may not be the best choice for everyone, especially those who prioritize performance and ride rough off-road trails frequently. Furthermore, the worthiness of foldable mountain bikes depends on your willingness to invest in a quality model and the care and maintenance you provide.
Whether or not foldable mountain bikes are worth it depends on your needs and preferences. If you value the ability to easily store and transport your bike while enjoying the occasional off-road adventure, a foldable mountain bike can be a solid investment.
Considering a Folding Electric Bike Purchase
• The Advantages of Folding E-Bikes
– Portability and Convenience
Folding e-bikes are designed with portability in mind. Folding the bike into a compact shape allows for a seamless vehicle, public transport, or walking transportation. The convenience of a folding e-bike cannot be understated.
– Space-Saving
With a folding e-bike, limited storage space is no longer an issue. Whether you live in a small apartment or cannot access secure outdoor bike storage, a folding e-bike can be easily kept indoors and takes up far less space than non-folding bikes.
– Versatility
Folding e-bikes are ideal for a wide range of situations, be it for commuting, recreational riding, or traveling. These versatile bikes are easy to ride and allow you to navigate urban areas while providing a decent workout easily.
– Environmentally Friendly
Electric bicycles have zero emissions and negligible environmental impact. By choosing to ride an e-bike, you are helping reduce your carbon footprint and minimize your environmental impact.
– Suitable for All Fitness Levels
The pedal-assist feature of e-bikes allows for a more leisurely ride without requiring excessive physical exertion. The rider can choose the level of assistance they require, making e-bikes suitable for people with different fitness levels.
• Factors to Consider When Buying a Folding E-Bike
– Budget
Folding e-bikes are available at various price points, spanning from affordable to high-end options. Considering your budget and balancing it with your requirements will help you make an informed decision.
– Weight
The weight of a folding e-bike can vary depending on the materials used and additional features. Lighter bikes are easier to carry but may also compromise on durability. It is essential to find a balance between weight and sturdiness.
– Battery Life
A crucial aspect of any e-bike is its battery life. The distance and duration you can travel on a full charge will depend on the quality of the battery. It is also important to consider the time it takes for the battery to recharge.
– Frame Material
The most common frame materials for folding e-bikes are aluminum and steel. Aluminum is lighter, while steel offers a more solid and durable frame. Evaluating your needs and preferences is important to determine which material suits you best.
– Wheel Size
Folding e-bikes come with varying wheel sizes, ranging from 16 to 26 inches. Smaller wheels make for a more compact and manageable folded size, while larger wheels offer a smoother and more comfortable ride. It is essential to consider the terrain and your riding preferences when choosing a wheel size.
– Gear System
Different folding e-bikes have varying gear systems, either single-speed or multiple-speed options. Your choice will depend on your preferred riding style and the terrain you will encounter.
– Motor Power
The power of the e-bike motor affects the level of assistance provided to the rider. A higher-power motor will offer more assistance and faster acceleration, whereas a lower-power motor will yield a more gentle and natural ride.
• Tips for Buying a Folding E-Bike
– Test Ride
Take a test ride on the folding e-bike you are interested in purchasing whenever possible. This will provide you with a better understanding of how the bike rides and handles and its overall build quality.
– Read Reviews
It is always a good idea to read reviews from other buyers to gain insights into the folding e-bike you are considering. This includes reading reviews for the overall performance and experiences other riders have had with the bike.
– Warranty and Customer Support
Ensure the manufacturer provides a comprehensive warranty and responsive customer support, which can be crucial in the long run.
– Select a Reputable Brand
Opting for a well-known and reputable brand will likely result in a higher-quality folding e-bike, better customer support, and easier access to replacement parts.
Before purchasing a folding e-bike, ensure you are familiar with your area's local regulations and restrictions, as these can vary between cities and countries. This might include limitations on motor power, top-assisted speed, and where the e-bike can be ridden.
• Final Thoughts on Buying a Folding E-Bike
Folding e-bikes offer numerous advantages, including portability, versatility, and an environmentally friendly mode of transportation. With the array of factors to consider and tips on making an informed purchase, you should now be well-equipped to decide if a folding e-bike is the right choice. Happy riding!
Benefits of Folding Electric Bikes Explained
A folding electric bike is an innovative solution for those who need a mode of transportation that offers numerous benefits over traditional bikes and other forms of transportation. With their growing popularity, it's worth examining the key advantages they bring to the table.
• Portability and Easy Storage
One of the foremost benefits of folding electric bikes lies in their portability. Their unique design allows you to fold the bike into a compact size, making it extremely easy to carry when you need to bring it on public transportation or store it in tight spaces.
Traditional bikes can be cumbersome or even impossible to bring on some forms of public transportation, but folding electric bikes can typically fit in train compartments, bus luggage racks, and more.
Regarding storage, folding electric bikes offer an advantage over their non-folding counterparts. Because they can be reduced to a relatively small size, they can be stored easily in apartments, offices, or other locations with limited space.
Utilizing minimal storage space makes them especially appealing to urban dwellers and commuters. No longer will you have to worry about finding a place to lock up your bike on the street or stress about it getting stolen.
• Enhanced Mobility and Extended Range
Due to their electric components, folding electric bikes can give riders a significant boost in their overall mobility. The U.S. Department of Energy highlights that electric bikes assist the rider by providing an additional power source, reducing the energy needed to pedal.
This boost in power can be a game-changer for individuals who find traditional bikes too physically demanding or have mobility limitations.
In addition to increased mobility, folding electric bikes have an extended range compared to traditional bikes.
Electric bikes enable you to travel further with less effort while maintaining the versatility and freedom of a traditional bike. This extended range makes them an excellent option for commuters or anyone needing to cover longer distances.
• Economical and Eco-Friendly
Folding electric bikes are an economical and eco-friendly option for those looking for a more sustainable mode of transportation. While the upfront cost of a folding electric bike can be higher than that of a regular bike, the savings you can accrue in the long run are significant.
You'll save on gas, insurance, and maintenance costs by replacing car trips with bike rides.
Not only does switching to a folding electric bike save you money, but it also significantly reduces your carbon footprint.
Electric bikes rely on battery power to assist in propulsion, so they are much cleaner than vehicles that rely solely on internal combustion engines. Lower emissions mean a reduced environmental impact and improved air quality in urban areas.
• Versatility in Various Settings
The usefulness of folding electric bikes goes beyond their portability and storage capabilities. Their versatile nature allows them to perform well in a variety of situations, whether you're cruising around the city or riding on rough terrain.
Many folding electric bikes come equipped with puncture-resistant tires and durable frames, making them well-suited for various riding conditions.
Furthermore, many folding electric bikes have multiple power mode settings. This means you can rely solely on your pedaling power, use the electric motor to take over completely, or use a combination of the two.
This versatility allows you to cater your ride to your exact needs – whether you need a workout or want to avoid arriving at your destination sweaty and out of breath.
• Conclusion
Folding electric bikes offer many benefits for individuals who need a portable, cost-effective, and versatile means of transportation. Their compact nature makes them easy to store and transport, while their electric components provide an enhanced mobility experience.
Opting for a folding electric bike can reduce your environmental impact, save money on transportation costs, and ride confidently in various settings. If you're considering a more sustainable and adaptable mode of transportation, a folding electric bike might be the perfect solution.
Advantages of an Electric Folding Mountain Bike
Portability
Compact Size
Effortless Commuting
Reduced Storage Space
Multi-modal Transit Compatibility
Eco-friendly
Reduced Maintenance
Folding Bike Pros and Cons: The Complete Guide
Folding bikes are popular, from daily commuters to recreational riders. There are various advantages and disadvantages to owning a folding bike, and we'll explore them in detail in this article. By the end of this comprehensive guide, you will better understand whether a folding bike is the right choice for you.
• Portability and Versatility
Folding bikes are designed with a hinged frame that allows them to be folded into a compact size, making them easily portable and convenient for multi-modal transportation.
The ability to fold the bike allows riders to carry it on public transport like buses, trains, and subways, making it an ideal choice for individuals living in urban environments and those who want to avoid the hassles of parking or securing their bike.
– Pros
Lightweight and compact design allows for easy carrying and storage.
Can easily fit into car trunks, under office desks, or in small living spaces.
Ideal for combining cycling with other forms of transportation.
– Cons
Folding and unfolding process can be time-consuming and cumbersome.
Some models may have a lower weight capacity, limiting their suitability for taller or heavier riders.
• Performance and Comfort
While folding bikes are designed for convenience, they are also expected to function as an efficient mode of transportation, providing the rider with the stability, comfort, and efficiency required for a smooth ride.
Folding bikes come in various designs, wheel sizes, and frame materials, which make a significant difference in performance and comfort.
– Pros
Smaller wheels provide quick acceleration and easy maneuverability.
A diverse range of models is available to accommodate the various preferences of riders.
Adjustable seat posts and handlebars allow for a customized fit.
– Cons
Smaller wheels and shorter wheelbases may result in a less comfortable ride and reduced stability at high speeds.
Some models may have limited gear options.
Generally not suitable for off-road or rough terrains.
• Maintenance and Durability
As with any vehicle, folding bikes require regular maintenance to ensure optimal performance and long service life. Most folding bikes are designed with durability, but it is crucial to consider the type of folding mechanism and the overall build quality to determine the bike's longevity.
– Pros
Durable materials, such as aluminum and steel frames, ensure a long-lasting build.
Most models have standard bike components, making replacement parts readily available.
– Cons
Folding mechanisms and hinges may be prone to wear and require regular maintenance or replacement.
The complex construction of some folding bikes may make repairs more challenging and time-consuming than traditional bikes.
• Price and Resale Value
Regarding pricing, folding bikes generally fall in the mid-to-high price range of bicycles. The cost is primarily due to the specialized design and engineering required to make the bike foldable.
However, the prices vary greatly depending on the components' brand, features, and quality.
– Pros
Folding bikes often retain resale value due to their unique design and versatility.
Investing in a high-quality folding bike can provide years of reliable performance.
– Cons
Initial purchase cost may be higher than traditional bikes.
Potential for extra costs associated with regular maintenance and replacement parts.
• Environmental Impact and Health Benefits
Cycling is a sustainable and eco-friendly mode of transportation, and folding bikes bring additional benefits in reducing traffic congestion and emissions.
– Pros
Promotes an active and healthy lifestyle.
Contributes to reduced carbon emissions and decreased traffic congestion when used as an alternative to driving.
– Cons
Limited suitability for long-distance cycling may reduce some riders' environmental benefits.
In conclusion, folding bikes offer several advantages, such as portability, versatility, and eco-friendly transportation. However, they also have some drawbacks, including higher initial costs, potential maintenance issues, and limitations in terms of performance and comfort.
It is crucial to evaluate your needs, expectations, and budget before deciding if a folding bike is the right choice for you.
For more information about folding bikes and cycling, consider visiting websites like League of American Bicyclists or other reputable sources that provide valuable insights and resources.
| Pros | Cons |
| --- | --- |
| Portability: Easy to carry and transport. | Smaller Wheels: May affect stability and speed. |
| Compact Size: Can be easily stored in tight spaces. | Durability: Typically less durable than traditional bikes due to folding joints. |
| Multi-modal Commuting: Can be combined with public transport, thus shortening commute time. | Price: Folding bikes may be more expensive than traditional bikes. |
| Theft Prevention: Can be taken indoors, reducing the risk of theft. | Weight: Folding bikes can be heavier due to the folding mechanism. |
| Travel-friendly: Can be checked in as luggage for air travel. | Performance: Generally not as efficient as traditional bikes when it comes to long rides and high speeds. |
Motor Power in Folding Electric Bikes
Motor power has become a critical factor to consider when choosing a folding electric bike. With bigger batteries and higher torque ratings becoming increasingly affordable, riders now enjoy more power and speed than before.
Motor power truly transforms the biking experience by offering increased speed. However, it's crucial to remember that speed should be controlled responsibly to ensure safety on the roads.
• Hub Motors in Folding E-Bikes
The majority of folding e-bikes leverage hub motors. These small, flexible motors offer cost-effectiveness and flexibility in placement. They stand in stark contrast to mid-drive systems, which are generally more expensive and require a dedicated space in the bike's layout.
Still, each variant has its advantages. The preference for hub motors in folding e-bikes largely comes down to the overall design philosophy of maintaining a compact, lightweight, and affordable solution.
• Wheel Size Matters
Considering wheel size is also important. Most folding e-bikes sport 20-inch wheels, which cater to a compact fold while ensuring easy transportation.
Certain models endorse 16-inch wheels for an even smaller fold. Others prefer full-size wheels, which though they result in a larger folded size, offer smoother rides. Here, we can look at this article from bikeexchange.com that explores the difference between different wheel sizes.
• Highlighting Top Folding Electric Bikes
The market is bustling with impressive folding electric bikes. The RadExpand 5, for instance, has been gaining attention for its practical features and stellar performance.
The Vika+, too, offers an excellent package by blending power, flexibility, and utility into a compact frame. The Aventon Sinch and Swagcycle boast of innovative design elements and superior ride quality.
The Volador, Lectric XP 3.0, and Aventon Abound stand out with their powerful motor systems and robust designs. Meanwhile, the Brompton Electric and Tern HSD P9 shine with their portable, easy-to-carry designs and impressive feature sets.
• Features to Look For
When choosing a folding e-bike, several features can improve your experience significantly. Integrated LED lights, for instance, enhance visibility in low-light conditions, thus ensuring safer rides.
Suspension forks offer comfortable rides by absorbing shocks from rough terrains. Wide tires increase stability and traction, providing added control over various surfaces.
Throttle options allow riders to vary assistance levels, making rides more customizable. Collapsible handlebars and reinforced frames also come in handy, especially when carrying heavy loads.
• Customization is Key
Finally, it's vital to choose a folding electric bike that suits your unique needs and preferences. As with many other decisions in our lives, there's no one-size-fits-all solution in the world of e-bikes.
Whether you need it for a daily commute, weekend trips, or outdoor adventures, finding the right folding e-bike can significantly enhance your biking experience. Always remember, your bike should be an extension of yourself, mirroring your lifestyle, values, and aspirations.
Highlighting The JupiterBike Summit: A High-End Electric Folding Bike
The JupiterBike Summit is not just a conventional electric folding bike. This high-performance machine is expertly designed for both street and trail riding, combining the best of performance, versatility, and convenience.
• Sleek, Lightweight Design
One of the compelling features of the JupiterBike Summit is its lightweight aluminum frame. This design element not only ensures the bike's durability but also improves its handling, providing a smooth ride regardless of the terrain.
• Unmatched Drive System
What sets the JupiterBike Summit apart is its 21-speed Shimano drivetrain. This advanced feature allows riders to effortlessly shift between different gears, ensuring optimal performance during cross-country rides or on city streets.
• Powerful Electric Performance
At the heart of the JupiterBike Summit is a 48V, 7Ah Samsung lithium-ion battery, and a 500W hub motor. This powerful combination provides an impressive maximum speed of 20 mph that can be easily adjusted to 28 mph based on the rider's preference.
• Impressive Wheel Design
For seamless transition between different terrains, the Summit comes with 26 x 2.35 knobby wheels featuring a tire pressure of 40-60 psi. This design promises increased stability and superior traction, whether you are using the bike on paved roads or rugged trails.
• Uncompromised Safety Features
The JupiterBike Summit includes front and rear disc brakes as a safety measure. It weighs approximately 50 lbs, making it easily portable without compromising on its stability and performance.
• Flexible Folding Dimensions
One of the standout features of this bike is the flexible folding dimensions. When folded, the bike measures 40 x 24 x 42, and when unfolded, the dimensions are 73 x 25 x 43. This feature is not only convenient for storage but also makes the bike portable for those who love to travel with their bikes.
• Supports Higher Weight Limits
A comprehensive bike, the JupiterBike Summit supports a weight limit of up to 300 lbs, making it suitable for a broader range of riders. Plus, with a wheelbase of 45 inches, this bike provides a balanced, stable, and comfortable ride.
• Customer Satisfaction Echoed through Reviews
There is a consensus among users that the JupiterBike Summit is a top-tier electric folding bike. Customers have consistently praised the bike's performance, design, and the brand's excellent customer service. Many users express their satisfaction with the brand overall, often mentioning their ownership of other JupiterBike models.
• The Folding Feature: A Gamechanger
The folding feature of the JupiterBike Summit has been appreciated as a game-changer. It allows for easy storage and transportation, which has been particularly loved by city dwellers and those who live in smaller spaces.
• Personal Recommendation
The JupiterBike Summit is highly recommended to anyone searching for a reliable, versatile, and stylish electric folding bike. Its seamless blend of performance and convenience makes it a superb choice.
The League of American Bicyclists, have shared guides that can help first-time electric bike buyers, and the JupiterBike Summit consistently ticks all their boxes.
• Final Thoughts
To sum up, the JupiterBike Summit is a sophisticated electric folding bike that expertly combines features appealing to both urban riders and trail enthusiasts. Its performance, versatility, and folding feature make it a top choice for bike enthusiasts.
When you choose the JupiterBike Summit, you're not just getting an electric folding bike; you're enjoying a wholesome biking experience.
Rapid Expansion of the Folding E-bike Market
Undoubtedly, the folding e-bike market has seen rapid substantial growth recently, a testament to the surge in demand for these compact, easy-to-carry mobility devices. Manufacturers can't afford to ignore this fact, as there's a broadening array of configurations accessible.
These designs include everything from lightweight, effortless-to-lift versions perfect for short distances to more robust selections apt for off-the-road excursions.
• Power Features of Folding E-bikes
What drives these bikes are compact motors programmed to deliver impressive quantities of wattage and torque. Manufacturers aim to enhance the power-to-weight ratio and, in the process, ensure these e-bikes can achieve higher speeds. With this advanced technology, certain versions can hit speeds of over 20 mph.
It's important to add that the performance of these bikes depends highly on the motor standards, with its efficiency directly proportional to the motor's technological robustness.
• The Mobility and Convenience Advantage
In addition to power, folding e-bikes bring considerable benefits in terms of portability. Notable for their lightweight nature, they're considerably more modest in weight compared to their classic e-bike counterparts.
Because they're foldable, users can effortlessly carry them around and store them in limited spaces. It simplifies the commute process, more so for urban dwellers with space constraints.
• What to Look For: Buying A Folding E-Bike
When shopping for a folding e-bike, there are several elements at the top of the checklist to ensure your investment pays off. This list of considerations includes but isn't limited to, the e-bike's weight, battery power, and e-class.
The bike's weight should be manageable enough to carry around easily. Battery power determines the distance one can cover before needing a charge. Additionally, the e-bike class is important because this establishes the legislation and regulation guidelines.
• Importance of E-Bike Classes
The e-class of an e-bike is a greatly influential component in the regulation of electronic bicycles. This classification differs across cities and regions, and it helps shape local policy guidelines and restrictions regarding the use of e-bikes.
A quick tour of the National Conference of State Legislatures website (.gov) can give you more information on these classifications. It's thus crucial to understand this before settling for a purchase.
• E-Bike Price and Performance Consideration
The best folding e-bike for you is most likely a combination of excellent performance and a pocket-friendly price. You should get value for your money. Keep an eye on the relationship between the e-bike's price point and its performance.
Many times consumers concentrate on price and often overlook performance, which is as important. Doing so can ensure you get the best quality while sticking to your budget.
• Final Thoughts
The expansion of the folding e-bike market is a testament to the increasing appeal of these handy devices. In essence, folding e-bikes are the epitome of innovative technology paired with the need of urban consumers.
When planning to invest in one, ensure you look out for essential considerations such as the bike's weight, battery power, and e-bike class. Understanding these factors will ensure you make a worthy investment in a folding e-bike that meets your specific needs.
You can look up more information on various governmental or non-profit organization websites to familiarize yourself with local legislation and regulations.
Evaluation Criteria for the Best Folding Electric Bikes of 2023
In our quest to identify the top folding electric bikes of 2023, we at Electric Bike Report have analyzed various e-bikes. The evaluation was based on key metrics such as value, components, distinctive features, and ride quality. The goal was to provide consumers with unbiased findings dedicated to enhancing their purchases.
• Choosing an E-bike for Specific Needs
No two riders are alike, and neither are their biking needs. Some urban dwellers prefer folding e-bikes for the daily commute, while outdoor enthusiasts may need an off-roading e-bike.
For others, cargo transportation might be a priority. Thus, the selected e-bike must align with the specific requirements of the rider. For additional information on how to pick the right e-bike, visit BikeLeague.org.
• Bike Analysis: Rad Power Bikes RadExpand 5
One of the top picks is the RadExpand 5 from Rad Power Bikes. The e-bike offers excellent value for money with its sturdy components and impressive speed. However, its heavier nature might not appeal to all riders.
• A Closer Look at Lectric XP 3.0
The Lectric XP 3.0 is laudable for its unique features. Its sleek design and compact folding mechanism set it apart. However, with all those features, the bike lands in a higher price range.
• Evaluating Aventon Sinch
The Aventon Sinch made the cut with its robust ride quality and superb battery life. Yet, the less smooth folding mechanism may be a minor drawback for users who need frequent packing and unpacking.
• Blix Vika+ Flex: Compact and Potent
The Blix Vika+ Flex strikes a balance between design and power. Despite its compact size, the e-bike delivers a strong performance. But, it comes with a premium price tag due to its upscale components.
• Unveiling Lectric XP Lite
The Lectric XP Lite stands out for its lightweight structure and easy handling. Although, the slightly shorter battery life could be a potential downside for long-distance riders.
• GoCycle G4: Perfect for Commuting
The GoCycle G4 is an excellent pick for commuting with its great folding design. However, it falls on the higher end of the price spectrum, a hurdle for budget buyers.
• Commending Tern Vektron
The Tern Vektron shines with its swift folding ability and durable components. The only downside reported was its high price, which might be a deterrent for some buyers.
• Discussing MOD City+
The MOD City+, with its potent power delivery and smooth ride, effortlessly made our list. Yet, its heavier weight may be a drawback for people who prioritize lightness.
• Delving into Evelo Dash
Lastly, the Evelo Dash is lauded for its affordability and comfortable ride. Though, the absence of more advanced features could deter tech enthusiasts.
• Final Thoughts
Ultimately, the listed bikes are our top picks for folding electric bikes based on extensive analysis using rigorous criteria. Each has its own strengths and minor downsides, but all have proven to be excellent choices.
We recommend potential buyers consider their specific needs and use these recommendations to guide their purchase decisions.
Evolution Of Electric Bikes
Electric bikes have made tremendous strides in the past few years. They have evolved to become lighter, more appealing, and pack more power than ever before. For those just catching up, this growth can be quite staggering.
– Electric Bikes: A Fit for All
There's a common misperception that cycling is purely for the fit and active. With electric bikes (e-bikes), this couldn't be more untrue. They offer profound benefits that cater to a wide array of riders. They not only get you in contact with the outdoors but also play a crucial role in reducing traffic congestion.
Additionally, they're eco-friendly, significantly lowering your carbon footprint.
– Tested and Proven: Top 13 Electric Bikes
As avid bikers, my team and I have had the privilege of testing a myriad of e-bikes. Through our rigorous evaluations, we've managed to curate a compilation of the 13 best electric bikes for every type of ride.
Our diverse list includes e-bikes from several manufacturers and spans across various riding purposes. You'll find commuter, cargo, mountain, folding, and even budget-friendly options included.
– In-Depth Analysis
To offer a comprehensive review, each bike is coupled with a detailed description of its features, the price range, and its respective benefits. For instance, the Specialized Turbo Tero features on our list, celebrated for its powerful motor, reliable battery life, and responsive handling.
Notably, it's customized for urban commuting with added unique features such as integrated lights, fenders, and a rear rack.
The Lectric XP 3 also forms part of our recommendations. It stands out for its budget-friendliness and versatility. It comes with a folding frame, a potent motor, and extended battery life, offering great value for money.
Other distinguished e-bikes on our list include the Cowboy 3, Rad Power Bikes RadRunner Plus, and Riese & Mller Load 60. These models showcase superior design, and functionality, and offer a remarkable riding experience.
– WIRED's Exclusive Offer
In line with our commitment to deliver top-notch insights on e-bikes, we've partnered with WIRED to provide a special offer for our readers. You can enjoy a discounted subscription to WIRED magazine right here.
• From Evolution to Revolution: The Electric Bike Movement
In summary, the electric bike sector has witnessed significant evolution, coupled with numerous intrinsic benefits. As a result, their popularity has soared across different demographics.
With our curated list of the 13 outstanding e-bikes, shopping for an electric bike becomes an effortless task. No matter your riding needs or preference, you're bound to find an electric bike that's tailor-made for you.
References
The League of American Bicyclists – bikeleague.org Reliable information and resources about bikes, perfect for amateur and professional cyclists.
Convenience and Freedom of Folding Electric Bikes
Folding electric bikes revolutionize how we think about transportation. By combining the convenience of a bicycle with electric power, these bikes provide a unique solution to overcoming the physical strain often associated with cycling. Now imagine folding up your bike in mere minutes and packing it away easily.
This isn't fantasy; it's reality, thanks to the innovation of folding electric bikes, a relatively new addition to the world of cycling.
It's a progression from the traditional cycling experience, replacing the usual exhaustion with an ease of pedaling. The concept of strain-free cycling is what many individuals, especially everyday commuters, have been looking for.
• Portability and Storage: Key Features
Folding electric bikes are incredibly portable. Being able to fold your bike significantly reduces its size, making it easier to store at home, work, or even to carry onto public transportation.
This portability feature makes them a great tool for folks who use different modes of transportation during their daily commute or for those who simply have minimal storage space.
This innovative design of folding electric bikes is not just about convenience, it's also about unlocking new opportunities for biking. Think about holiday trips; instead of dealing or negotiating with local bike rentals, you can bring your own bike.
• Charging Times and Long-Lasting Batteries
Another advantage of folding electric bikes lies in their quick charging times and durable batteries. This ensures the bike's longevity throughout your journey, whether that be a leisurely ride in the park or an exhausting commute to work. Batteries typically last for several hours, providing sufficient support for your rides.
In addition, to ensure you're never caught without power, consider purchasing a spare battery. This will provide peace of mind for those longer journeys or times when you may not have access to a charging station.
While discussing batteries, it's worth noting that folding electric bikes have environmentally friendly implications too. The more we opt for electric bikes, the more we save on gas emissions, playing part individually in the global shift towards green transportation.
• Safety and Protection on the Road
Safety is always a paramount concern when riding, regardless of the type of bike you're on. Folding electric bikes are no exception. It's critical to assert here to always equip yourself with the necessary safety gear.
Primarily, invest in a quality bike helmet. According to the Bicycle Helmet Safety Institute, helmets can reduce the risk of head injury by 85%. Furthermore, consider additional safety equipment such as lights, especially for those who will be cycling during darker hours.
With the increasing number of folding electric bikes sharing the roads with automobiles, increasing your visibility can literally be a lifesaver.
Here is a helpful link from a non-profit organization providing more helpful tips on bike safety that I recommend.
• An In-Depth Look into Folding Electric Bikes
While looking for a sustainable means of transportation, I came across a fascinating innovation: folding electric bikes. These bikes blend the convenience of traditional bicycles with the added benefits of electric power. For anyone seeking a compact, efficient means of getting around, these bikes offer a viable solution.
– Compact and Convenient
Folding electric bikes are designed for convenience and ease of use. One of the most significant benefits is their compactness. Since the bikes fold, storing them is a breeze, whether in your office, apartment, or car trunk. After commuting, you don't need a spacious bike rack. Fold it up and carry it with you!
– The Influence Of Motor Power
The motor is the heart of any electric bike. When choosing, consider the motor's power output, measured in watts (W). Higher wattage equates to more acceleration and, consequently, a quicker ride. These bikes usually have their motors mounted on the rear hub, which is both a lightweight and efficient arrangement.
– Understanding Battery Voltage and Capacity
The battery governs the range of your bike. It is crucial to look at the battery's voltage and ampere-hours (Ah). Higher values mean more power and, conversely, a more extended range. With a high-capacity battery, you won't have to worry about the dreaded "range anxiety" that comes with owning electric vehicles.
– Dual Assistance Systems
Folding electric bikes come with pedal-assist systems, throttle-assist systems, or a combination of both. The pedal-assist system provides additional power as you pedal. It's like having a silent partner pushing you along. On the other hand, throttle assist lets you keep your feet up and enjoy the ride, no pedaling required.
– Defining Speed
Most folding electric bikes fall into the Class 1 category, meaning they can achieve speeds up to 20 mph with motor assistance. However, some models, falling under the Class 3 category, can reach impressive speeds of up to 28 mph. Either way, you're sure to zip past traditional cyclists with ease!
The National Highway Traffic Safety Administration provides a comprehensive guide. This helps in understanding the legal limitations and performance specifications of both types of electric bikes.
– Size, Weight, and Wheel Size Considerations
Not all folding electric bikes are created equal. The bike's size and weight significantly impact storage and transportation. Opt for a lighter, smaller bike for portability and convenience especially beneficial when tackling stairs or crowded areas.
The wheel size also affects how compact the bike is when folded, with options ranging from 16-28 inches. Smaller wheels result in a more compact bike, but larger wheels offer better comfort and stability while riding.
– Selecting the Ideal Folding Electric Bike
The perfect folding electric bike depends on your specific needs and preferences in terms of power, range, size, and weight. Whether taking on city streets, commuting, or leisurely riding, understanding the aforementioned factors can help you select the right bike.
In my experience, investing in good motor power and battery capacity guarantees a smooth ride and strong performance. Additionally, a balanced blend of a compact design, speed, and suitable wheel size ensures the best experience with your folding electric bike.
Understanding the Features of Folding Electric Mountain Bikes
One distinguishing characteristic of folding electric mountain bikes is their larger wheel sizes compared to regular folding bikes and folding e-bikes. Wheel size is more than just about looks; it contributes significantly to the bike's performance and comfort levels.
Larger wheels can navigate rough terrains more easily, making the ride smoother and more stable, whether you are in an urban setting or on a forest trail.
• Experience the Convenience of Folding Electric Mountain Bikes
Choosing a folding electric mountain bike brings a world of convenience to the rider. Their compact design and folding mechanism allow for easy storage and transport, making them an ideal choice for individuals with limited storage space.
You can carry them easily on a bus, train, or even keep them under your desk at work! Forget about the hassle of finding a parking spot or chaining your bike outside.
• Security Benefits of Folding Electric Mountain Bikes
Aside from convenience, folding electric mountain bikes also offer enhanced security. The ability to fold and carry your bike inside eliminates the risk of theft that typically accompanies leaving bikes outside. No longer would you need to worry about your bike getting stolen or vandalized when you're not looking.
• Performance of Modern Folding Electric Mountain Bikes
Now, modern folding electric mountain bikes aren't just about convenience and security. They are also comparable to regular electric mountain bikes concerning power and capability. This means you get the benefit of having a powerful mountain bike without sacrificing portability.
These bikes are equipped with high-quality electric motors and battery systems, ensuring a satisfying and effortless riding experience regardless of the terrain.
• Understanding Power and Range Requirements
The power and range requirements of folding electric mountain bikes can vary. This variability is due to several factors, including the rider's weight, the weight of any baggage, how much you pedal, the size of the battery, and the terrain types you are riding on.
For instance, heavier weights and steeper terrains require more power, which consequently can reduce the range of the e-bike. Electric Bike Report has some fantastic information on how to maximize your e-bike's power and range.
• Choosing the Right Folding Electric Mountain Bike
When it comes to selecting a folding electric mountain bike that suits your needs, there are several considerations. The wheel size, as I've already mentioned, plays an integral role in the bike's performance. The frame material is another important factor as it impacts the bike's durability, weight, and ride quality.
The folding mechanism also needs to be considered. Some fold in half, while others collapse down. A good rule of thumb is to always evaluate these factors keeping in mind your biking needs and frequent travel routes.
• Recommended Accessories
Just like any other bike, adding some essential accessories to your folding electric mountain bike can significantly enhance your riding experience. A high-quality battery and charger are crucial for long rides. Safety accessories like helmets, lights, and reflectors can potentially save your life in risky situations.
A phone mount to keep your smartphone in sight and a bike bag for storage are other practical accessories that can make your biking journey more comfortable and enjoyable.
• Is a Folding Electric Mountain Bike Worth the Investment?
Given their numerous benefits, like portability, convenience, and high performance, folding electric mountain bikes are definitely worth the investment, especially for city-dwellers and those who need to transport their bike frequently.
However, professional electric mountain bikers or individuals with ample storage space might find non-folding electric mountain bikes more suited to their needs.
• Assistance from Eskute
Choosing the right folding electric mountain bike or accessories can be a daunting task, given the numerous choices available. Luckily, reputable e-bike suppliers like Eskute can provide valuable assistance.
Their expert advice and vast product range can guide you toward the ideal folding electric mountain bike for your specific needs.
Folding Electric Bikes: An Evaluation on Noteworthy Models
• A Look at Prominent Folding E-Bikes
A broad spectrum of folding electric bikes exists on the market today, each coming equipped with unique features and advantages. Some of the noteworthy models include the RadExpand 5, Vika+, Aventon Sinch, Swagcycle, Volador, Lectric XP 3.0, Aventon Abound, Brompton Electric, and Tern HSD P9.
Each of these e-bikes showcases its uniqueness in features, range, power, aesthetics, and value, thus offering riders a wide array of options to choose from.
• Key Considerations when Selecting Folding E-Bikes
– Motor Power
One of the significant factors to consider while choosing a folding e-bike is the motor power. Folding e-bikes generally have motors within the range of 250-350 watts. This power range provides an ample peak wattage rating and torque, which determines the power perception of the motor and its acceleration rate.
– Battery Capacity
Another feature to keep in view when making a choice is the battery capacity. Battery capacity is quantified in watt-hours (Wh), presenting an indication of the energy storage and range of the e-bike. High watt-hour means longer life between charges, which is essential for riders planning for long-distance travel.
– Wheel Size
Wheel size also holds considerable significance when selecting a folding e-bike. While most folding e-bikes choose to feature 20-inch wheels in order to maintain a compact fold, some models provide 16-inch or even full-size wheels, catering to different rider preferences.
• An Insider Look at Hub Motors
The hub motor is a common fixture in many folding e-bikes. The placement of these motors offers flexibility, as they can be located in either the front or rear wheel. These motors are also reputed for their affordability compared to mid-drive systems, making them a popular choice in many e-bikes.
• Unveiling Unique features: E-Bike Highlights
Each folding e-bike brings its unique features to the fore. They resonate with their diverse strengths across dimensions of power, aesthetics, usability, and value.
– RadExpand 5
The RadExpand 5 stands out for its strong build and reliability. Ideal for commuting and small enough to fit into the trunk of a car, this bike is hard to beat in terms of practicality.
– Brompton Electric
If aesthetics are your priority, Brompton Electric might just catch your fancy. Compact and easy to carry in its folded form, this eye-catching e-bike also boasts a robust motor, offering an excellent all-around package.
– Tern HSD P9
Whether it is a trip to the grocery store or a long ride on weekend trails, the Tern HSD P9 can be an ideal companion. With a focus on sustainability and comfortable ride quality, it effectively bridges daily use and recreational purposes.
For more information on electric bikes, I recommend visiting the Energy.gov page, a resourceful site offering valuable insights on energy-efficient transportation.
The choices for folding e-bikes are diverse and intriguing, each filled with charm and appeal. It all boils down to matching personal needs and preferences, be it in terms of power, portability, or aesthetics. The key advice I can offer is to consider these features and details carefully while choosing your next folding e-bike.
• Best Folding Electric Bikes for 2023
Rad Power Bikes RadExpand 5: Best Class II Electric Folding Bike
The Rad Power Bikes RadExpand 5 stands out as the best Class II electric folding bike in the market today. After a thorough review, this bike has shown robust performance in terms of component quality, value, and ride quality.
It delivers an impressive blend of power and portability, making it well-suited for commuters who need to combine cycling with public transport. Stanford University recommends folding bikes for urban transportation due to their convenience.
Lectric XP 3.0: Best Do-It-All Electric Folding Bike
Lectric XP 3.0 is another top-tier contender in the folding e-bike category, named the best do-it-all electric folding bike. It has been evaluated based on the versatility of its features, ease of use, and uniqueness.
With a strong build and compact design, this bike has fared exceptionally well due to its ability to effortlessly tackle various terrains.
Aventon Sinch: Best Class III Electric Folding Bike
Moving on, the Aventon Sinch has been deemed the best Class III electric folding bike. It has earned this title due to its fantastic ride quality, superior components, and meaningful purpose.
This bike performs exceptionally well to enable rides across tougher terrains, living up to the manufacturer's purpose of quality and high performance.
Blix Vika+ Flex: Best Modular Electric Folding Bike
Coming from the renowned Blix brand, the Vika+ Flex is made from a modular design model and has emerged as the best modular electric folding bike. This bike's standout point is the manufacturer's purpose – to create a bike that fits all riders, regardless of their cycling proficiency and comfort level.
Lectric XP Lite: Best Ultra-Affordable Electric Folding Bike
Budget shopping for folding bikes? Look no further than Lectric XP Lite. This model has been awarded the title of the best ultra-affordable electric folding bike. Despite its affordable price range, it does not compromise on delivering key features like ride quality, functionality, and durability.
GoCycle G4: Best Premium Electric Folding Bike
If you're seeking luxury, the GoCycle G4 is the ideal option. It stands out as the best premium electric folding bike, showcasing top-tier components, superior ride quality, and a unique aesthetic.
Its manufacturers have put great emphasis on creating a stylish, high-end bike that would provide riders with a top-tier cycling experience.
Tern Vektron: Best Electric Folding Bike for Cargo
The Tern Vektron is named the best electric folding bike for cargo due to its high cargo capacity without compromising on its compactness. With a well-balanced design and superior build quality, the Tern Vektron proves to be a reliable choice for those needing to carry heavy loads.
MOD City+ Electric Folding Bike
The MOD City+ is another great Class III electric folding bike. While it competes in the same category as the Aventon Sinch, the expansion in options for consumers is always a welcome addition. The MOD City+ excels in providing a comfortable and stable ride.
Lectric XPremium: Best Dual Battery Electric Folding Bike
With a dual battery feature that extends ride time and distance, the Lectric XPremium is named the best dual-battery electric folding bike. This bike offers convenience and longevity on those long trips where charging points may be scarce.
Evelo Dash: Best Mid-Tier Electric Folding Bike
Finally, the Evelo Dash is named the best mid-tier electric folding bike. This model offers a balanced combination of value, ride quality, and useful components. It's an excellent choice for those who want to enjoy great features without a hefty price tag.
• Versatility and Adaptability: The Summit Electric Folding Bike
The Summit is a prime example of modern engineering combined with attention to rider comfort and sustainability. This versatile electric folding bike proudly stands among the elite electric bikes capable of handling various terrains and weather conditions with ease.
• Special Features: Easy-to-Remove Battery and Other Highlights
One unique aspect of the Summit is its easy-to-remove battery. This practical design feature enhances its user-friendly nature, making charging and storage a breeze.
• Structure and Design: Aluminum Ultra-Light Frame
Riding a bike shouldn't feel like a weightlifting session! The Summit is built with an aluminum ultra-light frame. This enables riders to maneuver easily and confidently, setting the Summit apart in terms of user-friendly experience and rider comfort.
• Driven by Power: 21-speed Shimano Drivetrain
Equipped with a 21-speed Shimano drivetrain, the Summit ensures riders have a wide range of gears at their disposal, enhancing the overall riding experience by accommodating various terrain and rider skill levels.
• The Power Source: 500W Motor
Driving this electric bike is a potent 500W motor, guaranteeing a sustained, powerful performance fit to satisfy even the most ardent biking enthusiasts.
• A Shine on Safety: Integrated Features
A notable attribute of the Summit lies in its combination of safety features. An integrated headlight, water resistance, and front and rear fenders all contribute towards safe, secure, and exciting rides every time.
• Speed Potential: Up to 28 mph
In terms of speed, the Summit is no slouch. It comes with a maximum speed of 20 mph, but it can be adjusted to reach up to 28 mph when required.
• Power Supply: 48V, 7Ah Samsung Lithium-Ion Battery
The Summit is powered by a 48V, 7Ah Samsung lithium-ion battery. This energy-efficient power source works in unison with the 500W motor to ensure regular, reliable performance.
• Wheel Specs: 26 x 2.35 Knobby with Disc Brakes
The Summit comes with 26 x 2.35 knobby wheels with front and rear disc brakes, ensuring riders have the best possible control and agility during their rides.
• Compact Dimensions: Folded and Unfolded
When folded neatly, the Summit measures 40 x 24 x 42, compact enough to fit in the smallest spaces. Unfolded, it measures a comfortable 73 x 25 x 43.
• The Weight Game: 50 lbs and a Limit of 300 lbs
The Summit weighs in at a light 50 lbs, with a generous weight limit of 300 lbs. This allows for a wide range of individuals to enjoy the ride without any strain on the bike.
• Peace of Mind: 1-Year Limited Warranty
To add to the ownership experience, the Summit comes with a 1-year limited warranty. This provides customers with the peace of mind necessary to truly enjoy their rides.
• Customer Satisfaction: Quality, Performance, and Service
Perhaps the most telling testimonial of a product's value comes from its users, and the Summit is no exception. Customers have consistently praised the quality, performance, and high level of customer service provided by JupiterBike.
For an in-depth exploration of electric bikes and how they work, visit the U.S. Department of Energy's 'Alternative Fuels Data Center' for more resources.
• Wrapping Up: The Summit
In summary, the Summit electric folding bike offers a combination of superior design, advanced technical features, and a customer-centric approach to biking.
Its attributes, such as speed, safety, weight, power, and adaptive features, make it more than just a transportation device. It becomes part of the rider's lifestyle, making every trip an adventure.
Remember, your bike wants to be ridden, and the Summit electric folding bike makes sure every ride feels like a journey worth taking. Make every ride count, and most importantly, always ride safely.
Classifications of Folding Electric Bikes
Folding electric bikes are a popular choice in 2023 and are categorized based on speed and assist type. At the basic level, we have Class 1 bikes that operate on a pedal assist system.
This means the motor aids the rider when pedaling, based on their efforts, and doesn't run autonomously. It's perfect for those making a transition from traditional bikes and still wants to maintain that level of workout while cycling.
Class 2 bikes incorporate both pedal assist and throttle functions. The added throttle feature, usually found on the handlebars, allows these bikes to run electrically without the need for pedaling. They are an ideal choice for riders seeking a more relaxed riding mode.
But for those who crave speed, in addition to these features, Class 3 bikes are their go-to option. These models not only have a throttle and pedal assist, but they can also hit maximum speeds of 28 mph. It's no wonder why they're preferred by speed enthusiasts and long-distance league riders.
• Importance of Weight for Folding Electric Bikes
Taking the weight of a folding electric bike into consideration is critical. Lighter models are easier to cart around and store, particularly for everyday city commuters. These bikes allow easy navigation in crowded areas and are practical public transport or office settings.
Although these models often come with fewer features, their mobility alone makes them a favorable choice amongst users.
On the contrary, heavier folding electric bikes are packed with additional features. This may include thicker tires for enhanced balance and sturdiness, larger batteries for longer cycling sessions, and cargo racks to carry your belongings.
Although rigorous to haul around, they cater well to users who prioritize features and durability over movability.
• Evaluating Battery Power of Folding E-Bikes
When it comes to battery power, a typical folding electric bike boasts a wattage range from 350 to 750 watts. A higher wattage normally indicates a larger battery capacity, translating to longer riding times and larger range capabilities.
But remember a larger battery will inevitably increase the bike's weight and size. Therefore, it's crucial to strike a balance based on personal needs and preferences.
• Adhering to Local Regulations for E-Bikes
Something to keep an eye on is the local laws and regulations surrounding e-bikes. Jurisdiction rules vary, and it's important to check in so that your e-bike is compliant. For more information, a visit to your local government's website or this Federal Electric Bike Laws Explained might come in handy.
• Mens Health Picks for Folding Electric Bikes in 2023
In line with the understanding of different types of folding electric bikes, Mens Health consulted various experts, including the gear and commerce editor, to derive a list of top e-bikes for 2023.
Key considerations spanned across aspects like design, performance, durability, features, and price point. This solid research should make your selection process effortless.
• Broad Choices in Folding E-Bikes Market for 2023
The ever-evolving market for folding electric bikes in 2023 will host an array of options to cater to varying needs and preferences. Assuming you're seeking a lightweight, easy-to-carry bike, there are plenty of choices catering specifically to city commuters.
Alternatively, if you're an adventurous rider seeking off-road challenges, certain rugged bike options have been built specifically for off-road conditions. It's all about picking what serves your needs best. So, take your time and dive deep into the pool of options before making your informed choice.
Happy e-biking!
• The Beauty of Folding Electric Mountain Bikes
Folding electric mountain bikes offer an impressive combination of convenience and ease of transport. Compact, powerful, and high-performing, they have gained a stronghold on the e-bike market due to their diverse capabilities.
Gone are the days when you needed different bikes for varying terrains. With foldable e-bikes, you can conquer mountains, cruise through city streets, and carry your bike effortlessly when not in use.
• Demystifying Common Misconceptions About Folding Electric Mountain Bikes
There's a host of misconceptions floating around about folding electric mountain bikes, particularly the concerns about durability and price. The truth is, similar to any other type of bike, the durability of a folding e-bike largely depends on the quality of its components and construction.
The saying, "You get what you pay for," equally applies here. While folding electric mountain bikes can indeed be expensive, with prices that escalate towards the higher end, there's also a myriad of affordable models that still offer exceptional performance.
Therefore, it's essential to balance quality, longevity, and price while making a purchase.
• Comparatively Speaking
Many people are under the impression that folding electric mountain bikes are slower than their traditional counterparts. Contrary to this belief, speed is determined by the power of the motor and not the design of the bike.
An e-bike fitted with a high-power motor manages to generate more speed regardless of its folding capability.
• Folding E-Bikes are Versatile and Customizable
One of the main advantages of folding electric mountain bikes is their adaptability. Suited for a range of terrains, they can also be customized to meet individual user preferences and needs. From adjusting the seat height to tailoring the speed setting, there's a lot you can tweak to your liking.
• Making a Mark: JupiterBike Summit
Among a wide range of available options, the JupiterBike Summit stands out prominently. Enriched with a sleek design, a powerful motor, and an impressive wheel design, this high-end folding e-bike has etched its position as a market leader.
• The Growing Market of Folding E-Bikes
The folding electric bike market has been expanding at an impressive pace, offering customers an ever-growing array of models to choose from. Whether you are a mountain bike enthusiast or an urban commuter, there's a folding e-bike waiting to match your needs perfectly.
• Key Considerations for Choosing a Folding Electric Mountain Bike
When purchasing a folding electric mountain bike, focus on factors like portability, performance, durability, and price. Prioritize according to your needs. Evaluate its folding and unfolding ease, power output, the strength of the frame, and, of course, its price tag.
• The Cream of the Crop
There are several top-performing folding electric bikes on the market, each offering a unique set of features and benefits. From the high-performing Rad Power Bikes RadMini 4, known for its ruggedness, to the sleek and comfortable Tern Vektron S10, each bike brings something unique to the table.
• Evolution is the Key
Electric bikes have come a long way from their humble beginnings. Today they are lighter yet more powerful, with high aesthetic appeal to match. This evolution has allowed these modern marvels to cater to a broad range of riders and purposes.
Federal Electric Bike laws have also evolved over the years, handling the ever-growing population of e-bike riders. You can check the federal e-bike regulations on the official National Highway Traffic Safety Administration (NHTSA) site.
As someone thoroughly experienced in handling a variety of e-bikes, I strongly recommend exploring the diverse and exciting world of folding electric mountain bikes. Always remember the best investment you can make is in a product that perfectly aligns with your needs, preferences, and budget.