Are Folding Electric Mountain Bikes Any Good?
Despite the convenience of folding electric mountain bikes, they still lag when rating the most popular e-bikes. You can confirm that seeing someone with a folding electric mountain bike is infrequent. For some reason, people have declined to invest in these e-bikes. It is hard to explain why they have not picked up in the current market.
However, folding electric mountain bikes are slowly returning with unique designs and styles. The little innovation the designers and manufacturers put in them may be the difference. And hopefully, the market of foldable electric mountain bikes will continue to thrive.
Are Folding Electric Mountain Bikes Any Good?
Yes, folding Electric Mountain Bikes are really good and have improved a lot lately. But is it important you understand the pros and cons and see if it is a good fit for you, They are convenient and much easier to move and store, but they are usually a little bit more expensive, less sturdy, and there are a limited amount of designs.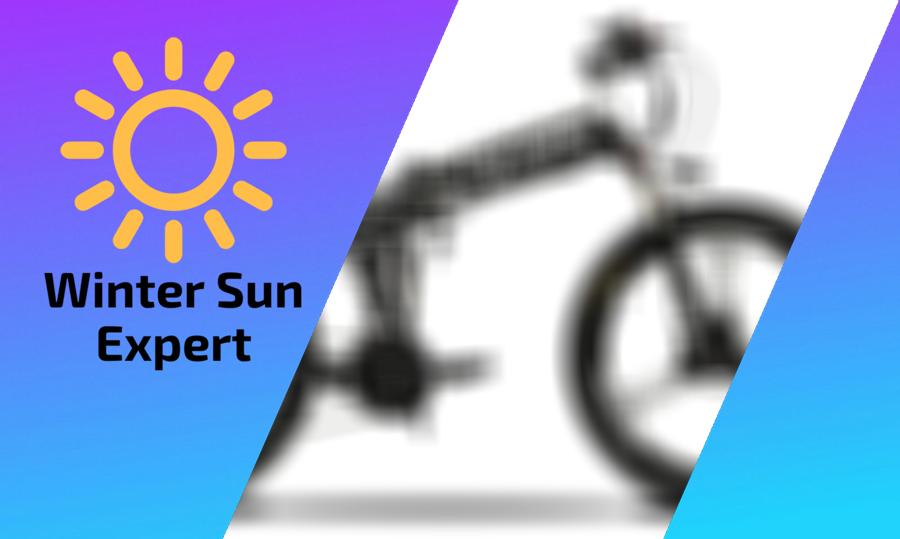 To understand the awesomeness of these bikes, it would be more helpful if you followed the different elements that make them a perfect cycling choice.  
Folding electric mountain bikes can fit in your trunk
The traditional designs of folding bicycles may be outdated in the current era. However, the convenience of this innovation cannot be out fashioned that easily. A folding electric mountain bike gives you the comfort you may be craving.
It folds in half to free up space if you fit it anywhere. People who have tried to carry their bikes while in transit can confirm the headache of fitting the bike in a limited space. Bikes are undeniably impressive until you decide to transport them. They can be a colossal pain.
If you have been through such a situation, you will probably appreciate the ability of a bike to fold when trying to fit in a car or any other storage place.
Folding Electric Mountain Bicycles
Folding bikes are awesomely convenient. When you combine two of the best amazing features in the world of bicycles, you get a folding electric mountain bike. It is supposed to be the ultimate bike that exudes speed and handiness.
For hard-core e-bike lovers, here is why you need to get your hands on one of the folding electric mountain bikes in the market.
Convenience
This is an area that we have looked at a bit. But whatever you have in mind is just a scratch on the surface. Transporting your folding e-bike on trains, cars, or any other public means of transport may be convenient. But have you ever tried carrying your bike upstairs?
If yes, then you know the sort of hurdle it is. With a folding e-bike, you will quickly eliminate this challenge. Once you fold the bike in half, you solve half the problem of carrying it up the squeezed staircases.
But that's not all, here are some challenges that you may as well bid bye if you buy a folding eMTB:
● Moving the bike without riding:
Sometimes, you may want to move your bike from one place to another without riding. The situation may be caused by the need to travel a long distance by car, or perhaps the bike is damaged, and you cannot ride it. Trying to stuff the bike in a vehicle may be a tough call.
A folding electric bike only takes half the horizontal space to make packing more expedient and fast. If you are into biking and traveling simultaneously, this is the perfect fit for your passion.
● Storage:
Not everyone is always on their bikes, especially during winter when snow and ice are all over the ground. That means you will need a place to store your bike during that period. A foldable electric bike is handy because it will not get in the way of other eMTBs. You can fold it, tuck it in a corner, and forget storage space.
But any other foldable bike can fit this profile. So why should you choose a foldable electric mountain bike over the other e-bikes? Here is the answer. If you love speed and the fun of electric-assisted bikes, adding an extra feature like folding should be more fun.
Once you unfold the bike and engage the motor, the riding experience is limitless.
Common misconceptions about folding electric mountain bikes
Folding electric mountain bikes are not as popular as regular ones because many people are misinformed. Here are some of the misconceptions that have continued to plague folding and electric bikes.
● Folding electric bikes are easily broken
Most people claim that folding eMTBs are not durable enough. But that is not true. The argument is always that the folding parts are prone to damage, adding more costs to maintaining the bikes. The truth is every machine manufactured with joints and hinges experience a bit of drawback in those areas.
But the manufacturers of these bikes also know that those regions are weak links. Therefore, foldable e-bikes are reinforced with different technological designs to prevent such problems.
One of the measures to eliminate this problem is designing folding bikes with reduced weight on the joints. The durability is significantly enhanced when the pressure applied in those areas is reduced. In this sense, some folding bikes are more robust than ordinary eMTBs.
Another thing to consider is that you will likely get what you pay for. The same applies to anything you purchase. The quality and price are direct variables. Cheap folding electric mountain bikes may not be as durable as more costly ones.
As much as you would like to go for the most affordable options in the market, avoiding some deals that look too good to be true is always advisable.
● Foldable eMTBs are expensive
The bike's motor part is likely to increase its price. But that is normal and considerate. All other electric mountain bikes vary in price, and that is something you cannot avoid. A folding electric mountain bike is often a bit more expensive, but you can find much more expensive non-foldable eMTBs.
But again, you may have to compare different models to determine the right one that fits your budget.
The best price range for a folding electric mountain bike should be between $500 and $1500. Anything above that range would be a result of added aesthetics. Any price that is lower than that range should raise some eyebrows. Paying more for a bike and using it for many years is better.
● The motor can be affected by folding the bike
This possibility is something that the designers of the bike take into account. The battery pack and delicate elements are often placed strategically away from the joints and hinges. It is, therefore, safe to fold the bike without worrying about the state of the other parts.
● Folding electric mountain bikes are slower
Another misconception is that folding bikes are given less power than other eMTBs. All the technical features of an eMTB are included in the folding bike. Regarding speed, the type of motor and its power rating is the determining factor, not the bike's design.
The ingenuity of the manufacturers allows for better, if not similar, features on a folding eMTB as in other electric bikes. With an electric motor installed on the bike, you can easily beat any lag that may come your way.
With that said, It is essential to understand that any misrepresentation of facts about foldable electric mountain bikes may impact their acceptability. On the other hand, you do not need to rely on third-party information if you are unsure what to do.
Try doing your homework to see if what you want is suitable for you or not. In the end, it is your need that should be met.
The bottom line
If you have a regular electric mountain bike, then you know how hard it is to board anywhere with your bike. The bulkiness of the generic eMTB will force you to purchase a bike rack if you need to transport it to the back of your truck. Worst enough, you must lock them up in some parking zones if you cannot handle the pressure of moving around with one by your side.
When it comes to a folding electric mountain bike, you get a more comfortable time due to the handiness of the bike. It is as convenient as folding it up at the end of a ride and stores somewhere in a corner, waiting for the next trip.
When it comes to getting the most convenient and suitable folding bike for you, remember to look at the bike's balance instead of going for the specs alone. The electric motor's weight can impact the bike's balance if it is mounted in the wrong place. And you also do not want an engine that is too close to the folding hinges and joints.
There are several explanations for why you might opt for a folding electric mountain bike apart from the apparent portability and ability to save on space. If you are still undecided about the prospect, you should find someone who has one and ask if you can try it out to feel the bike's functionality for yourself.
Alternatively, you can visit your nearest dealer and hear from the experts directly.
Folding Electric Mountain Bikes: Are They Worth It?
• Introduction to Folding Electric Mountain Bikes
Folding electric mountain bikes (eMTBs) are a relative innovation that combines the convenience of a folding design with the power and capabilities of electric assistance, providing an exciting alternative for outdoor enthusiasts.
These bikes make for a versatile and space-saving option, allowing riders to transport and access various terrains easily.
• Key Features of Folding Electric Mountain Bikes
– Folding Mechanism
The main selling point of folding eMTBs is their ability to fold into a more compact size for transportation and storage. Typically employing a hinge-based design, folding bikes can be compacted in seconds, making it convenient to carry them in a car trunk or take them on public transportation.
A well-built folding mechanism should balance ease of use and structural integrity when riding.
– Electric Assistance
Equipped with a battery-powered motor, folding eMTBs provide varying degrees of electric assistance to the rider. This can be particularly helpful when conquering steep inclines, traversing rough terrain, or simply taking a break from pedaling.
Most electric mountain bikes offer multiple levels of assistance, allowing riders to customize their experience and conserve battery life as needed.
– Suspension and Frame Design
Folding eMTBs generally features a robust frame design and suspension system, essential for handling rugged mountain trails and absorbing impacts. A quality suspension fork and rear shock, combined with a durable frame, can significantly affect ride comfort and handling.
– Wheel Size and Tire Selection
Electric mountain bikes usually come with either 26-inch or 27.5-inch wheels, depending on the intended use and rider preference. Larger wheels are better suited for rolling over obstacles, while smaller wheels provide quicker acceleration and increased maneuverability.
Additionally, tire selection is crucial in traction and ride comfort, with wider tires offering increased grip and stability on various surfaces.
• Advantages of Folding Electric Mountain Bikes
– Ease of Transportation and Storage
Their compact design allows folding eMTBs to be easily transported and stored without requiring a dedicated bike rack or significant storage space. This makes them an ideal option for outdoor enthusiasts living in cities or small apartments and those who wish to avoid the hassle of transporting full-sized bikes to trailheads.
– Versatility and Accessibility
The combination of electric assistance and a folding design enables these bikes to cover various terrains and use cases, from urban commuting to off-road adventures.
Furthermore, electric assistance can make mountain biking more accessible to riders of varying skill levels and physical abilities, allowing more people to enjoy the thrill of the sport.
– Environmentally Friendly
Riding an electric mountain bike can be an eco-friendly alternative to driving a car, reducing emissions and the carbon footprint of your outdoor activities. Furthermore, the electric assistance encourages riders to choose biking as a viable transportation option, thus promoting a greener lifestyle.
• Potential Drawbacks of Folding Electric Mountain Bikes
– Weight and Portability
While the folding mechanism offers increased portability, folding eMTBs tend to be heavier than their traditional counterparts due to the addition of a battery and motor. This may make them more difficult to carry or maneuver when folded, particularly for individuals with limited strength or mobility.
– Durability and Maintenance
As with complex equipment, folding eMTBs require regular maintenance to ensure optimal performance and longevity. Folding mechanisms, hinges, and other components may require periodic adjustment or replacement to maintain structural integrity and safety.
Electric components like the battery and motor may need to be serviced or replaced over time.
– Price
Folding electric mountain bikes generally come at a higher price point than traditional mountain bikes or non-electric folding bikes due to the integration of electric components and the folding mechanism.
However, depending on the intended use and the alternatives (such as the cost of a car and fuel), it can be considered a worthwhile investment for some individuals.
• Conclusion and Recommendations
Folding electric mountain bikes have much to offer, especially for riders seeking a versatile and space-saving solution for exploring mountain trails and urban environments. However, they may not be suitable for everyone, particularly those with weight and portability concerns or those on a tight budget.
To make an informed decision, I recommend researching and test-riding various models and brands of folding eMTBs, as well as considering the specific needs and preferences of the rider.
It might also be helpful to consult reviews and expert advice from reputable sources like ElectricBikeReview.com and MountainBikeReview.com or seek guidance from local bike shops or cycling clubs.
With careful consideration and due diligence, folding electric mountain bikes can bring a new level of excitement and enjoyment to your outdoor adventures.
Assessing the Value of Foldable Mountain Bikes
Foldable mountain bikes have gained popularity in recent years as people seek more convenient transportation and exercise. But are they a worthwhile investment, especially for those who love off-road cycling and demand ruggedness and mobility from their bikes?
To discuss the worthiness of foldable mountain bikes, it is important to delve into the different aspects, like their portability, performance, durability, and the range of options available in the market.
• Portability: A Major Advantage
Foldable mountain bikes are known for their ability to be folded into a compact size, making them easy to transport and store. This portability is a significant advantage for those living in urban areas with limited storage space or those who want to take their bike on public transportation.
If you frequently travel with your bike, a foldable mountain bike can be convenient. For instance, if you like to explore different mountain biking trails and need to drive to the trailhead, a foldable bike allows you to store it in your car's trunk conveniently.
Additionally, considering their compact size, some airlines might have more favorable policies for foldable bikes.
On the topic of portability, BikeLeague.org has a useful guide on how to travel with folding bikes.
• Performance: Versatility Meets Compromise
Foldable mountain bikes come in various designs to cater to off-road terrains and user preferences. Many foldable mountain bikes are equipped with quality components, such as hydraulic disc brakes and full suspension systems, which provide excellent control and maneuverability on technical trails.
However, some compromises are made regarding geometry, weight, and rigidity to achieve the folding capability. Typically, folding mountain bikes tend to be heavier than their non-folding counterparts, owing to the additional hinges and joints necessary for folding.
Also, the smaller wheels usually found on foldable mountain bikes may decrease stability, especially when riding on rough terrain.
Nevertheless, foldable mountain bikes can offer a good balance between performance and convenience for leisure riders who prioritize portability and are not hardcore off-road enthusiasts.
• Durability: Sturdy Enough?
Regarding the durability of foldable mountain bikes, concerns often arise about the longevity of the folding mechanisms and whether they can withstand repeated use and rough trails.
The truth is that the durability of a foldable mountain bike largely depends on its quality and construction materials. As with any bike, you get what you pay for. Higher-quality foldable mountain bikes, with robust aluminum or steel frames and sturdy folding mechanisms are designed to endure off-road conditions and long-term use.
To ensure longevity and reliable performance, it is crucial to maintain and care for your foldable mountain bike properly. Regular inspections and timely repairs can go a long way in extending the life of your bike.
• Range of Options: Choose Wisely
The market offers a wide array of foldable mountain bikes, catering to different preferences and budgets. However, finding the perfect foldable mountain bike may require careful research.
Before purchasing a foldable mountain bike, consider factors such as the type of trails you will primarily ride on, your preferences in terms of weight and folding capabilities, and your budget.
Based on my experience, I recommend investing in a high-quality foldable mountain bike rather than a cheap model to ensure its durability, performance, and overall satisfaction. Additionally, it is always a good idea to test-ride a few models to find the most comfortable and suits your riding style.
• Conclusion: Are Foldable Mountain Bikes Worth It?
In conclusion, foldable mountain bikes offer great convenience and portability, making them a practical option for many people, especially those living in urban areas or traveling with their bikes.
However, it is essential to realize that foldable mountain bikes may not be the best choice for everyone, especially those who prioritize performance and ride rough off-road trails frequently. Furthermore, the worthiness of foldable mountain bikes depends on your willingness to invest in a quality model and the care and maintenance you provide.
Whether or not foldable mountain bikes are worth it depends on your needs and preferences. If you value the ability to easily store and transport your bike while enjoying the occasional off-road adventure, a foldable mountain bike can be a solid investment.
Considering a Folding Electric Bike Purchase
• The Advantages of Folding E-Bikes
– Portability and Convenience
Folding e-bikes are designed with portability in mind. Folding the bike into a compact shape allows for a seamless vehicle, public transport, or walking transportation. The convenience of a folding e-bike cannot be understated.
– Space-Saving
With a folding e-bike, limited storage space is no longer an issue. Whether you live in a small apartment or cannot access secure outdoor bike storage, a folding e-bike can be easily kept indoors and takes up far less space than non-folding bikes.
– Versatility
Folding e-bikes are ideal for a wide range of situations, be it for commuting, recreational riding, or traveling. These versatile bikes are easy to ride and allow you to navigate urban areas while providing a decent workout easily.
– Environmentally Friendly
Electric bicycles have zero emissions and negligible environmental impact. By choosing to ride an e-bike, you are helping reduce your carbon footprint and minimize your environmental impact.
– Suitable for All Fitness Levels
The pedal-assist feature of e-bikes allows for a more leisurely ride without requiring excessive physical exertion. The rider can choose the level of assistance they require, making e-bikes suitable for people with different fitness levels.
• Factors to Consider When Buying a Folding E-Bike
– Budget
Folding e-bikes are available at various price points, spanning from affordable to high-end options. Considering your budget and balancing it with your requirements will help you make an informed decision.
– Weight
The weight of a folding e-bike can vary depending on the materials used and additional features. Lighter bikes are easier to carry but may also compromise on durability. It is essential to find a balance between weight and sturdiness.
– Battery Life
A crucial aspect of any e-bike is its battery life. The distance and duration you can travel on a full charge will depend on the quality of the battery. It is also important to consider the time it takes for the battery to recharge.
– Frame Material
The most common frame materials for folding e-bikes are aluminum and steel. Aluminum is lighter, while steel offers a more solid and durable frame. Evaluating your needs and preferences is important to determine which material suits you best.
– Wheel Size
Folding e-bikes come with varying wheel sizes, ranging from 16 to 26 inches. Smaller wheels make for a more compact and manageable folded size, while larger wheels offer a smoother and more comfortable ride. It is essential to consider the terrain and your riding preferences when choosing a wheel size.
– Gear System
Different folding e-bikes have varying gear systems, either single-speed or multiple-speed options. Your choice will depend on your preferred riding style and the terrain you will encounter.
– Motor Power
The power of the e-bike motor affects the level of assistance provided to the rider. A higher-power motor will offer more assistance and faster acceleration, whereas a lower-power motor will yield a more gentle and natural ride.
• Tips for Buying a Folding E-Bike
– Test Ride
Take a test ride on the folding e-bike you are interested in purchasing whenever possible. This will provide you with a better understanding of how the bike rides and handles and its overall build quality.
– Read Reviews
It is always a good idea to read reviews from other buyers to gain insights into the folding e-bike you are considering. This includes reading reviews for the overall performance and experiences other riders have had with the bike.
– Warranty and Customer Support
Ensure the manufacturer provides a comprehensive warranty and responsive customer support, which can be crucial in the long run.
– Select a Reputable Brand
Opting for a well-known and reputable brand will likely result in a higher-quality folding e-bike, better customer support, and easier access to replacement parts.
Before purchasing a folding e-bike, ensure you are familiar with your area's local regulations and restrictions, as these can vary between cities and countries. This might include limitations on motor power, top-assisted speed, and where the e-bike can be ridden.
• Final Thoughts on Buying a Folding E-Bike
Folding e-bikes offer numerous advantages, including portability, versatility, and an environmentally friendly mode of transportation. With the array of factors to consider and tips on making an informed purchase, you should now be well-equipped to decide if a folding e-bike is the right choice. Happy riding!
Benefits of Folding Electric Bikes Explained
A folding electric bike is an innovative solution for those who need a mode of transportation that offers numerous benefits over traditional bikes and other forms of transportation. With their growing popularity, it's worth examining the key advantages they bring to the table.
• Portability and Easy Storage
One of the foremost benefits of folding electric bikes lies in their portability. Their unique design allows you to fold the bike into a compact size, making it extremely easy to carry when you need to bring it on public transportation or store it in tight spaces.
Traditional bikes can be cumbersome or even impossible to bring on some forms of public transportation, but folding electric bikes can typically fit in train compartments, bus luggage racks, and more.
Regarding storage, folding electric bikes offer an advantage over their non-folding counterparts. Because they can be reduced to a relatively small size, they can be stored easily in apartments, offices, or other locations with limited space.
Utilizing minimal storage space makes them especially appealing to urban dwellers and commuters. No longer will you have to worry about finding a place to lock up your bike on the street or stress about it getting stolen.
• Enhanced Mobility and Extended Range
Due to their electric components, folding electric bikes can give riders a significant boost in their overall mobility. The U.S. Department of Energy highlights that electric bikes assist the rider by providing an additional power source, reducing the energy needed to pedal.
This boost in power can be a game-changer for individuals who find traditional bikes too physically demanding or have mobility limitations.
In addition to increased mobility, folding electric bikes have an extended range compared to traditional bikes. Electric bikes enable you to travel further with less effort while maintaining the versatility and freedom of a traditional bike. This extended range makes them an excellent option for commuters or anyone needing to cover longer distances.
• Economical and Eco-Friendly
Folding electric bikes are an economical and eco-friendly option for those looking for a more sustainable mode of transportation. While the upfront cost of a folding electric bike can be higher than that of a regular bike, the savings you can accrue in the long run are significant.
You'll save on gas, insurance, and maintenance costs by replacing car trips with bike rides.
Not only does switching to a folding electric bike save you money, but it also significantly reduces your carbon footprint.
Electric bikes rely on battery power to assist in propulsion, so they are much cleaner than vehicles that rely solely on internal combustion engines. Lower emissions mean a reduced environmental impact and improved air quality in urban areas.
• Versatility in Various Settings
The usefulness of folding electric bikes goes beyond their portability and storage capabilities. Their versatile nature allows them to perform well in a variety of situations, whether you're cruising around the city or riding on rough terrain.
Many folding electric bikes come equipped with puncture-resistant tires and durable frames, making them well-suited for various riding conditions.
Furthermore, many folding electric bikes have multiple power mode settings. This means you can rely solely on your pedaling power, use the electric motor to take over completely, or use a combination of the two.
This versatility allows you to cater your ride to your exact needs – whether you need a workout or want to avoid arriving at your destination sweaty and out of breath.
• Conclusion
Folding electric bikes offer many benefits for individuals who need a portable, cost-effective, and versatile means of transportation. Their compact nature makes them easy to store and transport, while their electric components provide an enhanced mobility experience.
Opting for a folding electric bike can reduce your environmental impact, save money on transportation costs, and ride confidently in various settings. If you're considering a more sustainable and adaptable mode of transportation, a folding electric bike might be the perfect solution.
Advantages of an Electric Folding Mountain Bike
Portability
Compact Size
Effortless Commuting
Reduced Storage Space
Multi-modal Transit Compatibility
Eco-friendly
Reduced Maintenance
Folding Bike Pros and Cons: The Complete Guide
Folding bikes are popular, from daily commuters to recreational riders. There are various advantages and disadvantages to owning a folding bike, and we'll explore them in detail in this article. By the end of this comprehensive guide, you will better understand whether a folding bike is the right choice for you.
• Portability and Versatility
Folding bikes are designed with a hinged frame that allows them to be folded into a compact size, making them easily portable and convenient for multi-modal transportation.
The ability to fold the bike allows riders to carry it on public transport like buses, trains, and subways, making it an ideal choice for individuals living in urban environments and those who want to avoid the hassles of parking or securing their bike.
– Pros
Lightweight and compact design allows for easy carrying and storage.
Can easily fit into car trunks, under office desks, or in small living spaces.
Ideal for combining cycling with other forms of transportation.
– Cons
Folding and unfolding process can be time-consuming and cumbersome.
Some models may have a lower weight capacity, limiting their suitability for taller or heavier riders.
• Performance and Comfort
While folding bikes are designed for convenience, they are also expected to function as an efficient mode of transportation, providing the rider with the stability, comfort, and efficiency required for a smooth ride.
Folding bikes come in various designs, wheel sizes, and frame materials, which make a significant difference in performance and comfort.
– Pros
Smaller wheels provide quick acceleration and easy maneuverability.
A diverse range of models is available to accommodate the various preferences of riders.
Adjustable seat posts and handlebars allow for a customized fit.
– Cons
Smaller wheels and shorter wheelbases may result in a less comfortable ride and reduced stability at high speeds.
Some models may have limited gear options.
Generally not suitable for off-road or rough terrains.
• Maintenance and Durability
As with any vehicle, folding bikes require regular maintenance to ensure optimal performance and long service life. Most folding bikes are designed with durability, but it is crucial to consider the type of folding mechanism and the overall build quality to determine the bike's longevity.
– Pros
Durable materials, such as aluminum and steel frames, ensure a long-lasting build.
Most models have standard bike components, making replacement parts readily available.
– Cons
Folding mechanisms and hinges may be prone to wear and require regular maintenance or replacement.
The complex construction of some folding bikes may make repairs more challenging and time-consuming than traditional bikes.
• Price and Resale Value
Regarding pricing, folding bikes generally fall in the mid-to-high price range of bicycles. The cost is primarily due to the specialized design and engineering required to make the bike foldable.
However, the prices vary greatly depending on the components' brand, features, and quality.
– Pros
Folding bikes often retain resale value due to their unique design and versatility.
Investing in a high-quality folding bike can provide years of reliable performance.
– Cons
Initial purchase cost may be higher than traditional bikes.
Potential for extra costs associated with regular maintenance and replacement parts.
• Environmental Impact and Health Benefits
Cycling is a sustainable and eco-friendly mode of transportation, and folding bikes bring additional benefits in reducing traffic congestion and emissions.
– Pros
Promotes an active and healthy lifestyle.
Contributes to reduced carbon emissions and decreased traffic congestion when used as an alternative to driving.
– Cons
Limited suitability for long-distance cycling may reduce some riders' environmental benefits.
In conclusion, folding bikes offer several advantages, such as portability, versatility, and eco-friendly transportation. However, they also have some drawbacks, including higher initial costs, potential maintenance issues, and limitations in terms of performance and comfort.
It is crucial to evaluate your needs, expectations, and budget before deciding if a folding bike is the right choice for you.
For more information about folding bikes and cycling, consider visiting websites like League of American Bicyclists or other reputable sources that provide valuable insights and resources.
| Pros | Cons |
| --- | --- |
| Portability: Easy to carry and transport. | Smaller Wheels: May affect stability and speed. |
| Compact Size: Can be easily stored in tight spaces. | Durability: Typically less durable than traditional bikes due to folding joints. |
| Multi-modal Commuting: Can be combined with public transport, thus shortening commute time. | Price: Folding bikes may be more expensive than traditional bikes. |
| Theft Prevention: Can be taken indoors, reducing the risk of theft. | Weight: Folding bikes can be heavier due to the folding mechanism. |
| Travel-friendly: Can be checked in as luggage for air travel. | Performance: Generally not as efficient as traditional bikes when it comes to long rides and high speeds. |