Can A Mountain Bike Keep Up With A Road Bike?
Whether you want your favorite mountain bike to have the speed of a road bike or you're worried about lagging in the road cycling adventure next week, your primary concern would be how to bring the speed of the mountain bike on par with a road bike. In-depth research has enabled us to discover a viable solution to the problem, which we will share with you in this post.
A mountain bike can keep up with a road bike after making some simple adjustments:
Switch your knobby tires with high-pressure slicks to reduce the rolling resistance.
Lock out your suspension to minimize the loss of momentum through shock absorption.
Shifting to clipless pedals will dramatically increase stroke efficiency.
Lower your handlebars to reduce air resistance, which is a big factor at higher speeds.
Be prepared and fit enough for extra effort to propel the heavy machine.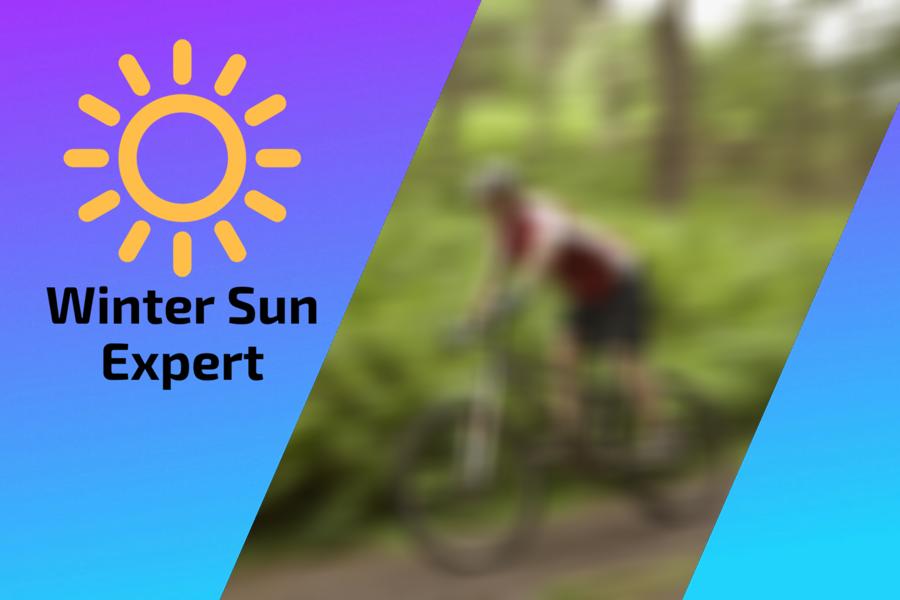 The modification is not as laborious as it looks. We'll elaborate on it all to show how smooth the process is. Keep reading as we break down the adjustments and the cautions to help make your mountain bike as swift as the road bike.
Choose Slick Tires in Place of the Knobbies 
The most effective tweak is to replace your knobby tires with high-pressure slicks. Mountain bikes are manufactured for rough hilly terrain, and knobby tires provide the necessary resistance and durability. However, their utility off-road turns into a liability on-road.
Knobby tires increase the rolling resistance, whereas the slicks are lighter in weight, roll quicker, and dramatically increase the speed for the same effort.
You can easily find slick tires that fit with your bike rims. It will work much better if you prefer 1.25"-1.5" slicks. Whether you afford it or not, you can have a spare set of wheels or put the slick tires on the existing rims.
If a short budget does not hinder you, purchasing a set of spare wheels is advisable. This would give you the best of both worlds, simultaneously having speed and climbing ability whenever you want. In case you alternate between roads and trails with the same tires, 2" slicks will give you the perfect freedom of mobility and endurance. 
You must pump your tires near the maximum capacity. You must see the maximum PSI before inflating them too much. The higher the pressure, the lesser the rolling resistance and you'll find your mountain bike running much faster than before. 
You must look for tougher tires within your budget to avoid the constant worry of puncturing tubes. It is even better to purchase puncture-resistant tubes. Switching to slicks would bring an immediate improvement in speed on the road.
And don't worry, if you are obsessed with the gears or ready to go the extra mile to gain more speed, we'll share with you how to use the spare set of wheels to an even better advantage later in the post.
Lock-Out the Suspension
The next important modification to improve the speed is to lock out your suspension or make it as stiff as possible. This will reduce the loss of momentum in shock absorption and enhance the power of your pedal strokes. 

The structural flexibility of a mountain bike is conducive off-road, but it is unnecessary on-road as it tends to lose momentum. Locking out or stiffening the suspension reduces the bobbing while you pedal. This considerably boosts the pedal power and hence increases the speed. 

If you plan to spend more time on roads than on trails, switching to a new fixed suspension fork can be a better solution to maximize your watts.
Go for Clipless Pedals
You can boost your mountain bike speed by opting for 'clipless' pedals. Clipless pedals have a locking mechanism and a cleat attachable to your shoes. Your shoes clip into the pedals and connect to your bike. This solid connection results in better power transfer and hence increases the speed. 
In conventional pedals, you must remain in contact with the pedal consistently and put some force to keep your foot intact. The other leg exerts a downward force on the pedal, and you must apply a little pressure on the other pedal while even pulling up.
Practically speaking, your legs are working against each other. Thus the very leg of the rider causes a considerable loss of energy that can be utilized by clipless pedals to increase the speed.

You don't have to worry about keeping the contact in clipless pedals. So your sole focus is on exerting the force on the pedals to propel the bike forward. It saves valuable energy and not only increases the rider's stamina but also maximizes the effort to enhance the bike's speed. 
Another major benefit of clipless pedals is that while you put downward force on one pedal, you can pull up the other pedal attached to your shoe. This practically doubles the amount of power used to propel the bike forward.
However, beware of using clipless pedals after some serious amount of practice as a new user will find it difficult to dis-engage in case of any contingency, especially if you are road-biking in areas where you often have to stop on signals, or you might have to find your way through a traffic jam. 
Lower the Handlebars
You can lower the handlebars to reduce the air resistance, which becomes a major factor at a higher speed. The upright position serves the mountain climbs where tackling the air resistance is the least of your concerns. However, it becomes a considerable factor on-road.
Lowering the handlebars will position you much better aerodynamically. The crouched position minimizes the air resistance and maximizes the force to speed up the bike. The lower the resistance, the greater will be the speed.
You can also opt for a drop bar altogether. You must be aware that if you choose dirt drop bars, you'll need to change both the shifters and brake levers, as the original ones won't work with this. So it is important to plan according to the budget.
Some alternatives in the market would be compatible with your brake levers and shifters, but they are not exactly the drop bars as in the real thing.

You must necessarily adapt to this position if you've always been a mountain biker. The shift from a convenient upright position to a crouched one can be uncomfortable for many.
The lowered body position puts a considerable strain on the hands and the neck, resulting in more saddle pressure. The accumulative effect can be way too inconvenient to focus on gaining more speed.
Comfort is the Key Anyway
While aerodynamics has much to do with speed, the value of comfort cannot be undermined. The last thing you want while maintaining a decent speed is a sore back, neck, and hands that would slow you down ultimately. You should position yourself according to your body type.
On the contrary, if you are more comfortable in other than the crouched position, you can put more power into the pedals and gain a consistently higher speed.
Get Ready to Exert a Little Extra Effort
Lastly, the biker is as important in speeding up as the bike. After all these tweaks, the road bike will still be lighter and potentially faster. The heavier weight of a mountain bike is an asset off-road as it provides durability, safety, and endurance, but it turns into a liability on-road.
Brighter chances are that you love the looks of your mountain bike, but you want it to be multi-purpose or not to let you down on the road. So be prepared to exert that little extra effort to keep up your heavy favorite bike with the road bikes.
Now that your bike has been modified to give a tough time to the road bikes, your weight and fitness is the next most important factor in determining your bike's speed. So if you want your favorite bike to be as speedy as the road bikes, stay fit and in good shape, dude☺ 
Willing to Go the Extra Mile – Try This
Using a different cassette, you can utilize the biggest advantage of having a spare set of wheels. This will improve the gearing, making it more suitable for road biking. Mountain bike gears aid the steep climbs and trail rides, but you must spin quickly and gain more RPMs on-road. This tweak will considerably increase your speed potential.
You can also try shifting to a larger chainring, and it is quite viable now as most mountain bikes now come with a single chainring. The larger chainring will make your cadence work more efficiently and result in more RPMs, boosting your speed to the next level.
If you have a wide handlebar on your mountain bike, you can replace it with a narrower one. A narrow handlebar will reduce your frontal area and minimize air resistance even if you are riding upright. A handlebar with 50-60 cm width works best on-road.
The negligible adjustments like lowering your head, tucking your elbows, and wearing cycling clothes and aero helmets can help you gain extra miles per hour.
Be the Fast Road Commuter
So what are you waiting for? Try these modifications on your favorite mountain bike; no road biker will ever cross you. Boost your speed and enjoy the road ride!
Comparing Mountain Bike and Road Bike Speeds
The eternal debate of whether a mountain bike can keep up with a road bike has sparked countless discussions among cycling enthusiasts.
• Physical Differences Between Mountain and Road Bikes
Before discussing whether a mountain bike can keep up with a road bike, it's vital to understand the physical differences between the two.
– Weight
Mountain bikes are typically heavier than road bikes. The added weight comes from features designed to withstand rough terrains, such as sturdy frames, suspension systems, and thicker tires. On the other hand, road bikes prioritize lightweight materials that contribute to their overall speed and maneuverability.
– Tires
Mountain bike tires are wider and knobbier, providing increased traction and stability on uneven surfaces. However, this design also creates greater rolling resistance, slowing the bike down on flat surfaces. Road bike tires are thin and smooth, allowing minimal resistance and faster rolling speeds.
– Gearing
Mountain bikes often have a wider range of gears to handle steep climbs and descents on various terrains. Road bikes, in contrast, have higher gears that allow riders to reach greater speeds on flat surfaces and moderate inclines.
– Aerodynamics
Mountain bikes typically have a more upright position, allowing riders to navigate technical off-road terrain with greater control. While this design provides stability and balance but creates more wind resistance.
Road bikes, however, have a more aerodynamic riding position, reducing wind resistance and allowing riders to maintain higher speeds.
• Factors Affecting Performance
Considering the above-mentioned differences, it's generally accepted that road bikes are faster than mountain bikes on flat and smooth surfaces. However, some factors can impact these assumptions.
– Rider Fitness
Perhaps the most crucial factor in determining if a mountain bike can keep up with a road bike is the rider's fitness level. A highly skilled and fit mountain biker may be able to keep pace with, or even outpace, an inexperienced or less fit road cyclist.
– Riding Conditions
Under certain conditions, a mountain bike could keep up with a road bike. For example, a mountain bike's superior traction may level the playing field on gravel roads, rough pavement, or wet conditions.
– Bike Modifications
Certain modifications can be made to mountain bikes to improve their speed and efficiency, ultimately allowing them to keep up with road bikes more effectively. These may include swapping knobby tires for thinner, slicker tires or installing a more lightweight and rigid fork.
• Tips for Keeping Up on a Mountain Bike
Based on the factors mentioned earlier, here are a few tips and recommendations to help bridge the speed gap when riding a mountain bike alongside a road bike:
Improve Your Fitness: Invest time in building strength, endurance, and cycling technique to maximize your potential on any bike.
Choose the Right Tires: Swap your knobby mountain bike tires for smooth, narrow tires designed for mountain bike use on roads.
Adjust Your Riding Position: Consider lowering your handlebars and opting for bar ends to achieve a more aerodynamic riding position, helping to reduce wind resistance.
Draft Behind the Road Bike: When riding with a road biker, stay close behind them to take advantage of drafting. This technique helps to minimize wind resistance and can save energy.
Opt for Clipless Pedals and Shoes: Using clipless pedals and cycling shoes can improve your pedaling efficiency, allowing you to maintain a higher average speed when riding alongside a road bike.
• Conclusion
While road bikes are inherently faster due to their design and intended purpose, a skilled and fit mountain biker can potentially keep up under certain conditions. Additionally, modifications and strategic riding techniques can help close the speed gap.
However, it's essential to understand that mountain and road bikes were created with specific terrains and experiences in mind, and there is no definitive winner in all situations.
For further reading, check out this article from Stanford University that discusses the purpose and advantages of each type of bike.
Mountain Bike vs. Road Bike: Speed Differences
The ongoing debate among cyclists is whether a mountain bike can match a road bike's speed. While each bike type has unique advantages and disadvantages to consider, the right answer to this question largely depends on various factors such as terrain, components, and rider skill level.
– Terrain and Riding Styles
One of the primary considerations when comparing mountain bikes and road bikes is the type of terrain that the bikes will be ridden on. Road bikes are designed for smooth, paved surfaces, allowing them to reach high speeds with minimal effort.
On the other hand, mountain bikes are constructed for off-road trails, navigating obstacles, and providing traction and control in uneven terrain conditions.
Road Bike Terrain Performance
The design of road bikes- lightweight frames, narrow tires, and a more aerodynamic body – contributes to their efficiency on paved surfaces. The slick, high-pressure tires also minimize rolling resistance, allowing the bike to maintain high speeds when ridden on smooth pavement.
In contrast, mountain bikes have wider tires with aggressive tread patterns that provide increased traction, stability, and control necessary for off-road trails. However, they are less efficient on pavement because of the added rolling resistance and weight.
Mountain Bike Terrain Performance
Mountain bikes are explicitly designed to handle various off-road terrain conditions, such as loose gravel, mud, roots, and rocks. Mountain bike suspension systems are more robust and sophisticated than their road bike counterparts to absorb the impact of rough terrain.
The primary concern when it comes to matching the speed of a road bike is the efficiency of a mountain bike's components when ridden on flat pavement. In general, mountain bikes will be slower on the pavement due to their thicker tires, heavier frames, and wider handlebars.
– Components: Gearing and Tires
Mountain and road bikes also differ in their components, which can impact their speed potential. Gearing and tires are two key components that significantly affect the bike's speed capabilities.
Gearing
The gear ratios determine how hard or easy it is to pedal at a given speed. Road bikes typically have higher gears, allowing the rider to cover more ground with each pedal stroke, thus achieving higher speeds.
Mountain bikes, on the other hand, are equipped with lower gear ratios to provide the necessary torque needed to climb steep hills and obstacles and navigate technical terrain.
A mountain bike can improve its speed efficiency on smoother terrain types by swapping out the gears or utilizing a different gear ratio. However, it may never truly match the high gear ratio of a road bike.
Tires
As mentioned earlier, mountain bike tires are wider and typically have aggressive treads that help them maintain traction on various off-road surfaces. Conversely, road bike tires are narrow and have minimal tread patterns, allowing them to roll faster on the pavement.
Swapping out the tires on a mountain bike for narrower, slicker ones can increase its speed potential on the pavement. But even with this modification, the rider might not experience the same speed as a road bike due to the remaining differences in the bike's geometry and overall design.
– Rider Skill and Fitness Level
Ultimately, the rider's skill and fitness level are crucial in determining whether a mountain bike can reach the same speed as a road bike. Skilled mountain biker can maximize their speed potential by optimizing their body position, cadence, and pedaling technique.
Additionally, a rider's fitness level will directly impact their ability to maintain high speeds with their bike. Training and conditioning can help improve cyclists' efficiency on road and mountain bikes. With proper training, a mountain biker might be able to maintain similar speeds to a road bike, at least for short distances.
• Conclusion
The speed potential of a mountain bike compared to a road bike depends on many factors, including the terrain type, components, and a rider's skill level.
While it may be possible to modify a mountain bike, such as changing the gear ratios or swapping to slicker tires, it might not fully match the speed capabilities of a well-designed road bike.
Overall, cyclists need to understand the advantages and disadvantages of mountain bikes versus road bikes and choose the most suitable option for their needs and preferences.
However, if your goal is high-speed cycling on paved roads, I recommend investing in a dedicated road bike to ensure the most efficient performance. For more information on this topic, visit Sheldon Brown's Bicycle Technical Information.
Using a Mountain Bike for Road Cycling: Pros and Cons
As a biking enthusiast with years of experience in the sport, one of my most common questions is whether mountain bikes can be used for road biking. The short answer is yes, you can use a mountain bike for road biking.
However, some significant factors can impact the efficiency, comfort, and performance of riding a mountain bike on paved roads.
• Key Differences Between Mountain and Road Bikes
It is essential to recognize the critical differences between these two types of bikes to understand the challenges and benefits of using a mountain bike for road biking.
– Frame Geometry
Mountain bikes are designed with a more upright riding position to provide better control and visibility on rough terrain. Road bikes, in contrast, have a more aggressive frame geometry to maximize aerodynamics, power transfer, and efficiency.
The frame geometry of a mountain bike may cause discomfort when riding long distances on the road.
– Tire Width and Tread
Mountain bike tires are typically wider and have more aggressive tread patterns to help with grip and traction on off-road trails.
These wider tires with more substantial tread increase rolling resistance when used on pavement, making it more challenging to maintain a consistent and high speed on the road compared to a road bike with thinner, slicker tires.
– Suspension
Many mountain bikes come with front suspension forks and some feature rear suspension. While suspension provides a smoother ride on rough terrain, it can absorb energy on the road bike that would otherwise be converted into forward momentum.
This energy loss can decrease your overall efficiency and speed on the road.
– Weight
Mountain bikes tend to be heavier than road bikes due to their more robust frame, suspension components, and thicker tires. The increased weight of a mountain bike can make it more challenging to achieve and maintain higher speeds when road biking.
• Modifying Your Mountain Bike for Road Biking
While using a mountain bike for road biking may not provide the optimal experience compared to a dedicated road bike, some modifications can improve your road riding experience on a mountain bike.
– Tire Choice
Switching to narrower, smoother tires can significantly reduce rolling resistance and improve your efficiency on the road. Look for tires specifically designed for paved surfaces, as they will provide better grip and cornering than off-road tires.
– Lock Out Suspension
If your mountain bike has a lockout feature on the suspension fork and/or rear shock, engage it when riding on the road. Locking out the suspension will prevent energy loss from the suspension system and improve efficiency.
– Proper Bike Fit
Adjusting your mountain bike for proper fit can improve your comfort and efficiency when riding on the road. Consider adjusting the seat height, handlebar height, and reach to create a more comfortable and efficient riding position.
– Gearing
Mountain bikes typically have lower gears to help navigate steep climbs and provide better control on descents. This may limit your top speed on the road, so consider swapping out your mountain bike cassette for one with more road-friendly gearing if you plan on extensively riding on the pavement.
• Tips for Maximizing Your Road Biking Experience on a Mountain Bike
Be mindful of the terrain. Riding a mountain bike on smooth, flat roads will be more comfortable and efficient than on steep, rolling hills. Stick to routes that best suit your mountain bike's capabilities.
Ride at a comfortable pace. It's important to remember that a mountain bike may not be able to achieve or maintain the same speeds as a road bike. Focus on enjoying your ride and maintaining a comfortable pace for your bike and fitness level.
Practice proper cadence. Aim for a cadence of around 80-100 RPM (revolutions per minute) to improve your efficiency on a mountain bike. This cadence will help you maintain a consistent, smooth pedal stroke and reduce fatigue over long distances.
Stay safe. Mountain bike gearing and brake systems may perform differently than those on a road bike, so be cautious when approaching stops or navigating turns on the pavement.
– Final Thoughts
Using a mountain bike for road biking is possible but has inherent limitations and challenges. By understanding these differences and making necessary adjustments, you can still enjoy a pleasant road biking experience on a mountain bike.
However, if you frequently ride on the pavement, investing in a dedicated road bike to maximize your efficiency and comfort over long distances may be worthwhile.
For more information on choosing the right bike for your needs, I recommend visiting the League of American Bicyclists' guide on choosing a bicycle. This comprehensive resource will help you better understand the features and benefits of various types of bikes and make an informed decision on the best bike for your needs.
| Aspect | Details |
| --- | --- |
| Usage | Yes, a mountain bike can be used for road biking, but the riding experience may not be as efficient as using a road bike. |
| Tires | Mountain bikes have wider and knobby tires which create more rolling resistance on paved roads. Changing to smoother, thinner tires will improve the performance. |
| Weight | Mountain bikes are usually heavier than road bikes, making them harder to pedal at faster speeds on the road. |
| Geometry | Mountain bikes have a more relaxed geometry compared to a road bike, which may not be the most efficient and comfortable position for long road rides. |
| Gearing | Mountain bikes have a different gear range focused on climbing steep off-road terrains, which may not be optimal for fast-paced road cycling. |
Riding Difficulty: Mountain Bike vs. Road Bike Comparison
Cycling is an ever-growing popular activity worldwide, providing enjoyment, transportation, and exercise. While riding bicycles is generally similar across various bike styles, the difficulty level may drastically vary depending on the type of bike and terrain you are riding.
• The Difference in Bike Structures
Before diving into the riding challenges, it is important to understand the fundamental differences in the structure of mountain and road bikes. Knowing these differences will help you grasp the reasons behind the different difficulty levels while riding these bikes.
– Mountain Bikes
Mountain bikes are typically designed for off-road cycling and are made to tackle various terrains, such as trails, rocky paths, and steep inclines. Some common features include:
Robust and sturdy frame
Wide, knobby tires for better grip and traction
Suspension systems for shock absorption and improved control
Multiple gears for varying inclines
– Road Bikes
On the other hand, road bikes are designed for speed and efficiency on paved surfaces. Their characteristics are:
Lightweight frame
Thin, smooth tires for minimum rolling resistance
No suspension, for increased speed and power transfer
Gears optimized for flat or slightly inclined surfaces
Now that we know the structural differences between the two bikes let's explore the challenges of riding a mountain bike compared to a road bike.
• Riding a Mountain Bike: The Challenges
– Terrain and Trail Conditions
One of the most significant challenges of riding a mountain bike comes from the off-road terrain. Unlike the smooth and flat surfaces that road bike riders enjoy, mountain bikers have to conquer trails with loose rocks, tree roots, steep inclines or descents, mud, and more, all of which require different skills, levels of fitness, and concentration.
– Balance and Control
Bumpy and uneven surfaces demand advanced balance and control of the bike from mountain bikers. As navigating through obstacles becomes a regular part of the ride, mountain bikers must enhance their technical skills to safely ride through singletrack trails, rock gardens, or slippery slopes.
– Strength, Stamina, and Fitness
Mountain bike riding requires a higher level of physical fitness as the off-road terrain demands more energy than paved roads. Climbing steep hills or tackling rocky paths can be incredibly energy-demanding, making it essential for mountain bikers to build their strength and stamina to keep up with the additional effort required.
– Finding the Right Gear and Cadence
Often, mountain bike rides involve varying intensity levels due to changes in elevations or types of terrain. As a result, mountain bikers need to hone the skill of shifting gears accurately and promptly. Maintaining the right cadence and shifting gears smoothly becomes crucial in overcoming off-road obstacles.
• Helpful Tips to Improve Mountain Bike Riding
While mountain bike riding challenges can initially be steep, with practice and determination, you can improve and ultimately master this rewarding and adventurous activity.
Here are some helpful tips to improve your experience and abilities:
Develop Bike Handling Skills: Get accustomed to your mountain bike by practicing various techniques related to body position, balance, gearing, and braking on flat terrain before testing them on off-road trails.
Develop Your Fitness: Strengthen your core and leg muscles, as well as cardiovascular fitness, through exercises such as weight training, running, or swimming.
Keep Practicing: Gradually build up your off-road riding experience, starting with easy trails and progressing toward more difficult ones.
Connect with Other Mountain Bikers: Learn from more experienced riders by joining local mountain biking clubs or participating in organized rides to get valuable advice.
Dress Appropriately: Invest in cycling-specific clothing and protective gear, such as helmets, gloves, and shoes, to ensure your comfort and safety on the trails.
• Concluding Thought: Embrace the Challenge
Despite the increased challenges in mountain bike riding compared to road biking, many find it a deeply rewarding and exhilarating experience. As you gain more experience and develop your skills, you will be more confident, and the challenges will become more manageable.
The beauty of off-road biking is that it pushes your limits, allows you to bond with nature, and continuously presents new obstacles to overcome. So, embrace the challenge and get ready for an adventure like no other.
To find more information and better understand the world of mountain biking, visit the International Mountain Bicycling Association's official website, IMBA.
| Aspect | Mountain Bike | Road Bike |
| --- | --- | --- |
| Terrain | Designed for off-road, rough and uneven terrain | Designed for smooth, paved surfaces |
| Tires | Wide, knobby tires for better traction and stability | Narrow, smooth tires for less rolling resistance and greater speed |
| Suspension | Often has front and/or rear suspension to absorb shocks | Usually no suspension for a stiffer, more lightweight frame |
| Weight | Generally heavier due to more durable frame and components | Lightweight frame and components for improved speed and efficiency |
| Gearing | Typically has lower gears for easier climbing on steep hills | Higher gears for increased speed on flat and downhill surfaces |
| Difficulty | Can be harder to ride due to greater weight, rolling resistance, and challenging terrain | Easier to ride on smooth surfaces with less weight and rolling resistance |
Speed Comparison: Mountain Bike vs. Road Bike Performance
Bicycling has become increasingly popular for exercise, commuting, and exploring the great outdoors. When it comes to cycling, there is a variety of bikes designed for specific terrains and activities. Among them, mountain and road bikes are perhaps the two most common types riders use.
While there are significant differences in their design and purpose, many people might wonder how much slower a mountain bike is compared to a road bike.
• Aesthetics, Functions, And Designed Terrains
– Mountain Bikes
Mountain bikes, as the name suggests, were primarily engineered for off-road terrain and trails. They feature rugged, durable frames, wide and knobby tires, and suspension systems that absorb impact and provide stability when riding on rough, uneven surfaces.
– Road Bikes
On the other hand, road bikes are designed for smooth, paved surfaces, often used for commuting, racing, and recreational purposes. They feature lightweight frames, narrow, high-pressure tires, and minimal or no suspension, allowing for a more efficient energy transfer for increased speed on flat pavement.
• Speed Comparison: Mountain Bikes Vs Road Bikes
The question of speed and which of the two types is faster is ultimately subjective, depending on various factors such as the rider's ability, terrain, and cycling goals. However, several distinguishing features make road bikes generally faster on paved surfaces than mountain bikes.
– Factors Affecting Speed
Rolling Resistance
Rolling resistance refers to the force opposing an object's motion on a surface. It is influenced mainly by the tires and their contact with the ground.
Mountain bike tires are typically wider and have a more aggressive tread pattern. The knobs on the tires offer better grip on off-road surfaces but also increase rolling resistance. As a result, more energy is required to maintain speed, making mountain bikes comparatively slower on smooth surfaces.
In contrast, road bike tires are narrower, and their design focuses on minimizing rolling resistance by using smoother tread patterns. Consequently, road bikes can achieve higher speeds more effortlessly.
Air Resistance
Air resistance is another significant factor in determining the speed of a bicycle. It is a resistive force caused by the air the cyclist and bicycle encounter while moving forward.
Road bikes generally have a more aerodynamic design with smaller frame sizes, drop handlebars, and narrow tires. This allows cyclists to position themselves closer to the bike, reducing their frontal area and minimizing air resistance.
Mountain bikes have flat handlebars and a more upright riding position, increasing the cyclist's frontal area compared to road bikes. This results in greater air resistance, requiring the rider to exert more energy to maintain speed.
Weight
Weight is another essential factor that can affect your cycling speed. Road bikes are constructed using lightweight materials like aluminum or carbon fiber, resulting in a lighter bike that's easier to pedal, especially on inclines.
Mountain bikes, because of their sturdy frames designed for rough terrain, weigh more than their road counterparts. The added weight can slow down the rider, particularly when climbing uphill.
– Estimated Speed Difference
While it is difficult to provide a definitive answer regarding the speed difference between mountain and road bikes, some estimates place road bikes as about 2030% faster on the pavement. Of course, this can vary greatly based on individual circumstances like the rider's fitness level, bike components, route conditions, and weather.
• Conclusion and Recommendations
Road bikes are typically faster on pavement due to lower rolling resistance, better aerodynamics, and lighter weight. Mountain bikes, although slower on paved surfaces, excel in off-road environments with their rugged build and better traction.
Therefore, it is vital to consider your cycling preferences and goals before choosing between a mountain bike and a road bike. A road bike would be more suitable if you primarily ride on paved surfaces or value speed and efficiency.
Alternatively, a mountain bike would be a better fit if you enjoy off-road adventures and tackling challenging terrains.